Do you know?


Do you know?
Tachikawa is a Hot Spot for Professional Sports!
There are five professional sport teams that are based in Tachikawa: TACHIKAWA DICE.EXE, ALVARK TOKYO, TOKYO VENTOS, TOKYO VERDY BEACH SOCCER, and FUCHU ATHLETIC FC. We interviewed a major player of each team, asking questions about the attractiveness of the game, the team's strong ties with the city as home town, and so on.
Bouncing up to the World from Tachikawa!
Professional 3 x 3 Basketball Team born in Tachikawa
TACHIKAWA DICE.EXE
TACHIKAWA DICE.EXE is a professional 3 x 3 basketball team, which was established by a group of Tachikawa public institutions including Tachikawa Chamber of Commerce and Industry, Tachikawa city Shotengai Rengokai, Tachikawa Bureau of Tourism, and Junior Chamber International Tachikawa. The three-year-old club, belonging to Japan's top league PREMIER.EXE, has a men's team and a women's team, both of which got the ticket to 2018 World Championship.© 2018 3×3 EXE
Tachikawa is my second home.
Please come and enjoy the game!
Luke Evans
From San Diego, California, the 203cm tall all-rounder enchants the fan with his dynamic and skillful play. Luke led the team to the victory in the Japan Basketball Championship in 2018, winning MVP and the top scorer award. He studies Japanese in his free time.
What attracts you to 3 x 3 basketball?
The speed! We play in the half space of an ordinal basket court. The audience is never bored during the ten-minute exciting and thrilling game. They never see the ball stop. It originated as a kind of city street amusement. People were attracted by the game, and added some entertainment aspects of music and fashion.

How to enjoy watching home games
Playing in the home town being full of cheers and excitements of the local fans is very special for all the players. Lalaport Tachikawa Tachihi, a big shopping mall, is always crowded with many families and couples regardless of age. There, they can enjoy watching sports and attending many special events. Why don't you have fun all together?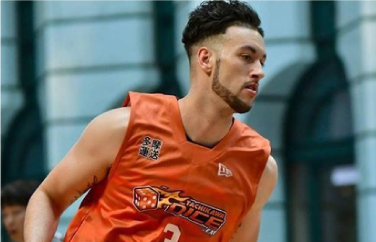 Our team's focus points!
TACHIKAWA DICE.EXE is the strongest 3 x 3 basketball team in Japan. It is far superior to speed and technique. Please look at powerful dunk shots in a game. The 3 x 3 basketball is an official game for 2020 Tokyo Olympic. It has recently drawn a great deal of attention from all over the world. We will jump on to the world from Tachikawa. Please cheer us up!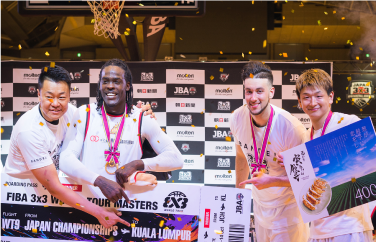 Luke's recommendation
Mothers Tachikawa Minamiguchi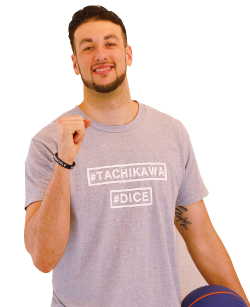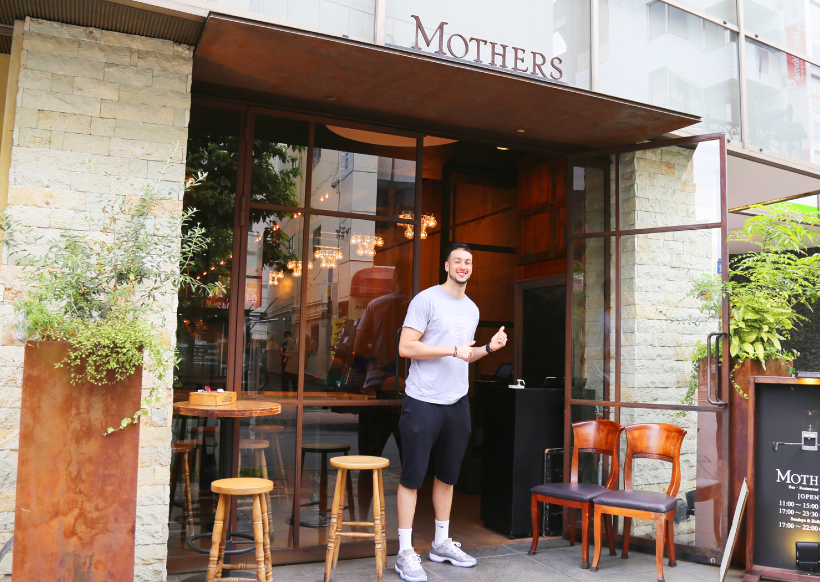 Mothers Tachikawa Minamiguchi, a very popular Italian restaurant, serves fresh vegetables and sea foods. The staff members welcome you with their wonderful hospitalities to a chic and stylish atmosphere, which surely gives you a cozy time.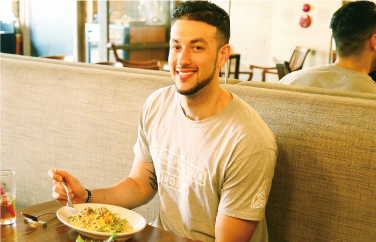 I always ordered a big portion of spaghetti.
Today, Luke ordered a plate of cream spaghetti with Salsiccia, corn and Manganji-pepper. At lunch time, you can choose one of the five kinds of spaghetti or risotto, including salad, drinks and dessert at 1,080 yen (tax included). Photo with the staff!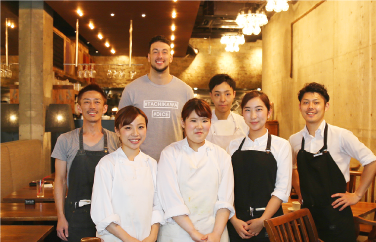 Fascinating the audience with stirring plays
The Sharp and Sparkling Basketball Team Covered with Red and Black
ALVARK TOKYO

ALVARK TOKYO, a basketball team with a name of "electric shock" in Arabic, enchants the fans with its speedy and aggressive plays. The team won the victory of the B League in 2017 and 2018 in a renewed Arena Tachikawa Tachihi. The team will keep playing at Tachikawa, its home town filled with the enthusiasm for basketball.© ALVARK TOKYO
Please cheer us up in Tachikawa!
Luke, a team mascot boy
Luke is a mascot of the team, The boy, who has a charming red and fluffy hair, loves basketball very much, and is gluttonous and easygoing personality. He makes friends easily and excites the audience by "WE Dance" with the cheerleaders.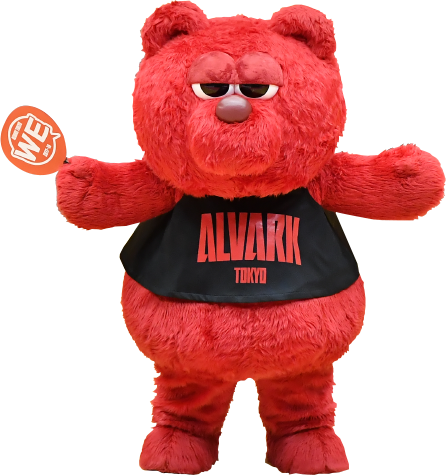 © ALVARK TOKYO
Pay attention to Daiki Tanaka!
Daiki is an ace player of the Japan National Team. He was selected as one of the best five players for two consecutive years, and won the MVP award by contributing the team toward the victory with his high scoring ability in B.LEAGUE FINAL 2017-18. Don't miss his sharp and speedy movements when dribbling a ball and hitting an incredible three-point shot.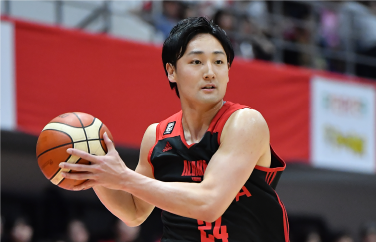 © ALVARK TOKYO
How to enjoy watching a home game
Check "High Five Kids" program. This program gives small children the opportunity to do a high-five with players when they enter a court. Also check a fan club site. You may get players' autographs in a signing event. Refer to the details in ALVARK TOKYO official site.
https://www.alvark-tokyo.jp/fanclub/bonus2018-19/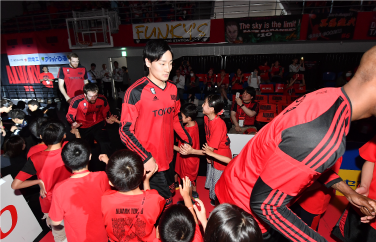 © ALVARK TOKYO
Focus points!
In the last season, the renewed Alvark Tokyo under a new head coach Luka Pavicevic fascinated the audience with aggressive and speed play. In this season, the team aims to get the second consecutive victory in the league for the first time in the league history.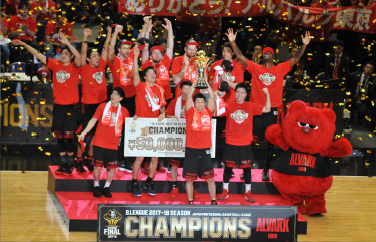 © ALVARK TOKYO
Luke's recommendation
Beers dedicated to Alvark Tokyo
Mumon-an livens up Alvark Tokyo with its own craft beer!
Mumon-an is brewing craft beer with natural water drawn up from a depth of 100 meters underground. It has two kinds of beer: full-bodied Amber Ale named Black Alvark and fresh-taste Cream Ale named White Alvark. The name was decided by the voting of Alvark Tokyo fans.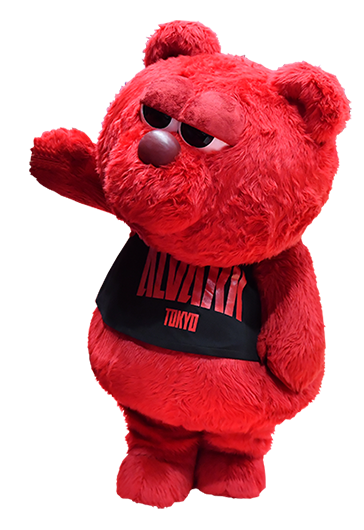 © ALVARK TOKYO
Try and buy the Mumon-an beers in our home game at Arena Tachikawa Tachihi.
TOKYO VENTOS, a Professional Bike Road Race Team, Thrills Tama Areas with the Road Races
TOKYO VENTOS
TOKYO VENTOS is a professional bicycle race team in Tachikawa, the city called "an entrance of cycling field". The team, participating in the J-PROTOUR, which is a bicycle road race ranking system in Japan, is aiming for the top team. The team is actively contributing to the local communities through bicycle activities such as holding a variety of bicycle classes for kids, attending some local events, and so on.© Itaru Mitsui / all japan 1990
A cycle racing is amazing!The race is basically an individual game, but actually a kind of team battle.
Please enjoy watching the races!

Naoya Uchino
Naoya is a former champion of the All-Japan Championship. He competed in many races for four years in France, the most famous country for cycle racing. In 2018, he moved to TOKYO VENTOS to aim for the victory in Japan.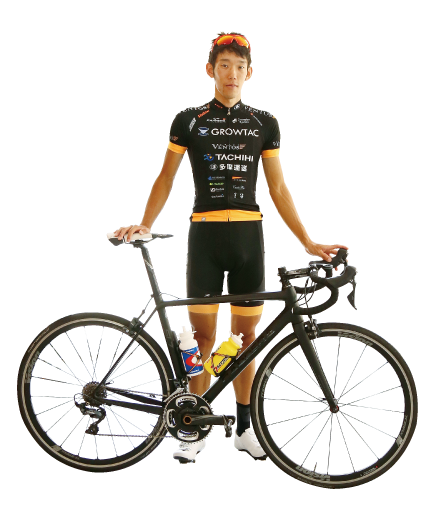 What attracts you to cycle racing?
I am fascinated with riding my bike with a great speed! I run 80km with my bike in about two hours. The road bike race has an individual ranking system, but it is also a team competition. In a 200-kilometer race, a team plans a variety of strategies including each rider's role and a race formation to bring the team mate a winner. The audience must be excited to watch the skillful and thrilling race.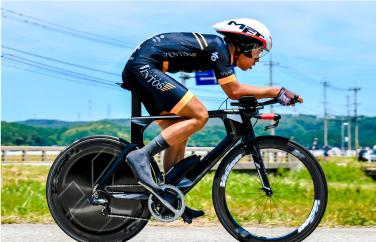 © Itaru Mitsui / all japan 1990
His trainings and his future dream
I usually practice in the same areas along with the next race's distance, but sometimes I ride my bike for going to a destination of beautiful scenery, a tasty restaurant, and so on.Law-traffic Tama areas, which are being full of greeneries, are my favorite training courses. I wish Tachikawa hold an international race like Le Tour de France in the future and have many audiences enjoying watching it.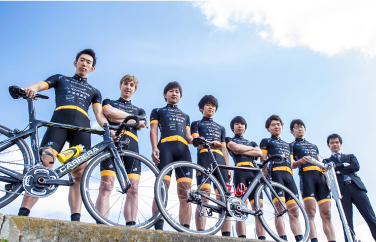 Naoya's recommendation!
Mugiko Seipanjo, a bread shop. I like its healthy hard bread very much.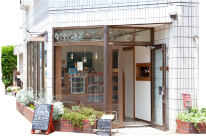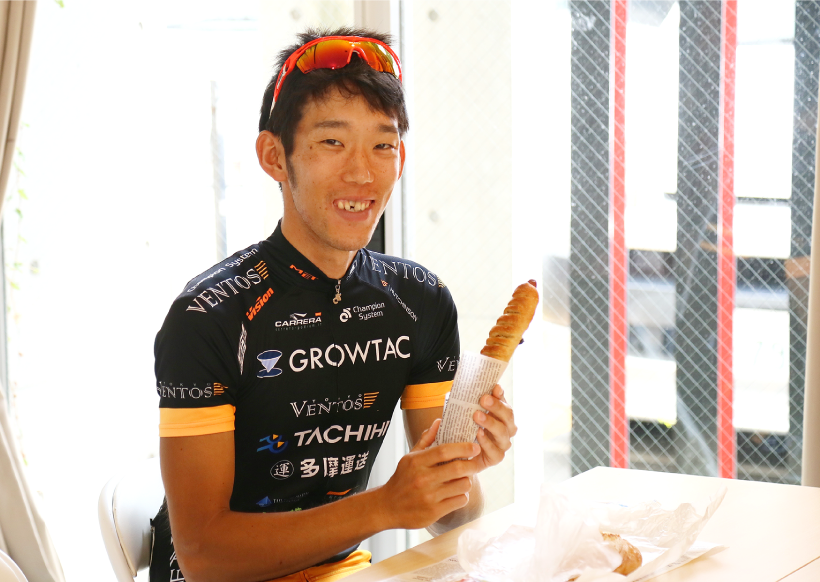 Very tasty juicy sausages!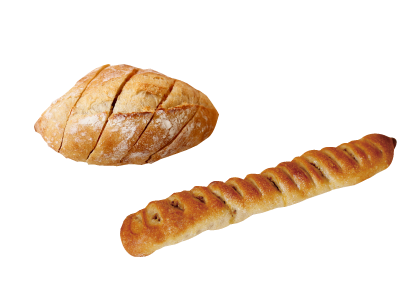 Naoya recommends you his favorite tasty bread of the shop: Shimauta, a baguette of Mugiko Seipanjo with a wiener of Okinawa Ham and mustards, and Mentaiko bread with lots of the shop-made Mentaiko sauce. Bike road racers, according to Naoya, like to eat a lot of breads as they consume a lot of calories in a race.
Shimauta: 280 yen (included tax), Mentaiko bread: 250 yen (tax included)
Going for the Top Club Team in the World!
Tokyo Verdy Beach Soccer
The team was established in February 2017, with the assignment of Mr. Moreira Ozu as a manager as well as a player, who is also a captain in the Japan National Team. The team, which is under Tokyo Verdy, J League professional soccer team, is based in Tachikawa. The team with many national-team players participated in the Japan beach soccer competition in 2017 for the first time, and won the tournament.© TOKYO VERDY BS
To the world!
We are in training at the Tachihi Beach.
Cheer us up in a game!

Moreira Ozu
The best fixo, who builds up a game from the back of the field, can score goals with a shot from anywhere in a field. Moreira, coming from Brazil, leads the team as a manager. He won the best player award of Silver Ball for the World Cup in 2013. His performance is well known for the world so that he was selected for one of the best five members of beach soccer worldwide for three consecutive years.
History of beach soccer
The beach soccer, having originated in Brazil, is now played all around the world. It is particularly popular in Europe, and Brazil, Swiss, Portugal, and Russia are among the very strong national teams. Japan team has got the highest ranking at the 4th place in the World Cup, which is held every two years. Currently Japan team ranks at the 9th position in the FIFA ranking, and is expected to win the victory in the World Cup in the future, just like Nadeshiko Japan, women's football team.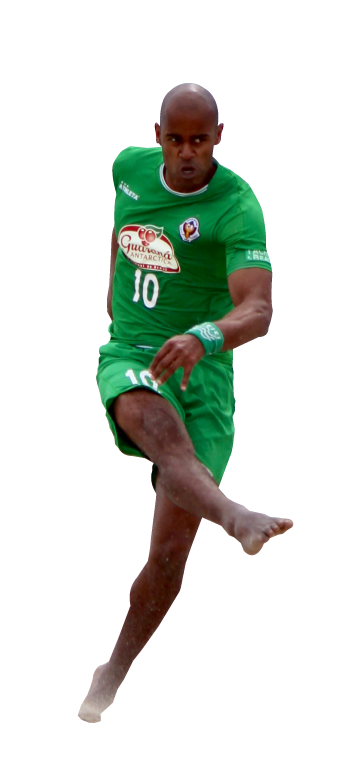 © TOKYO VERDY BS
What is the difference from Soccer?
The beach soccer is played with bare foot on sandy beach. The dimension of the field is as the same as that of futsal or one seventh of soccer field with 35 to 37 meters in the length and 26 to 28 meters in the width. Each team consists of five players including a goalkeeper. The playing time of a game is a total of 36 minutes, with the three periods of twelve minutes each.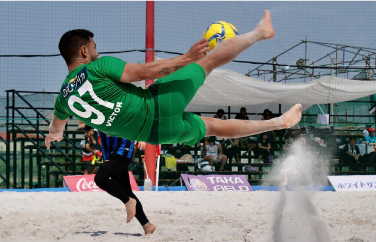 © TOKYO VERDY BS
The attractiveness of beach soccer
The beach soccer players enchant the audience with their superb acrobatic moves such as an overhead kick or other performances. You will be glued to the thrilling and speedy game.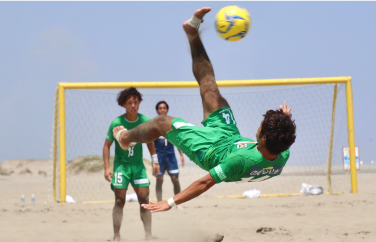 © TOKYO VERDY BS
Go and see the beach soccer!
The team holds training matches and a variety of events in a home pitch of Tachihi Beach. Enjoy watching powerful plays of professional players with their incredible performance skills.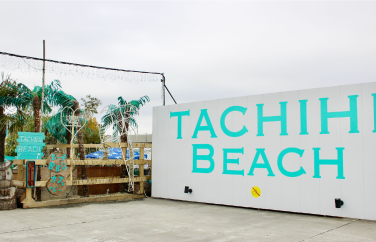 © TOKYO VERDY BS
Moreira's favorite spot!
Refresh yourself by watching movies in a sumptuous movie theater!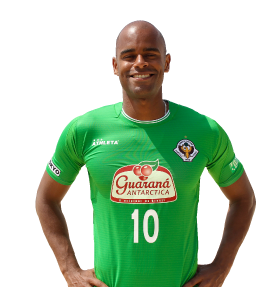 © TOKYO VERDY BS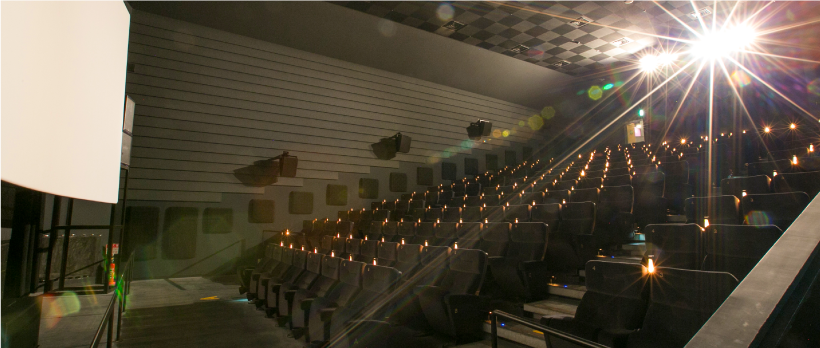 Ozu, who joined the team recently, is interested in watching movies in CINEMA TWO. The theater has good quality sound equipment which was carefully controlled by a veteran sound technician. The superb sounds and vibrations will give the sense of reality to a movie. There you will definitely enjoy and refresh yourself!
New FUCHU ATHLETIC FC
To Be a Futsal Team Loved by All the Local Communities in Tachikawa
FUCHU ATHLETIC FC
In 2018, the team, which had been based in Fuchu city, added Tachikawa city to its home town and its home arena. The team is scheduled to have several home games at Arena Tachikawa Tachihi. With the aim of being a club team all the local people are proud of, the newly born team will go forward to win the F League's top ranking.© Fuchu AFC
We have come from Fuchu to Tachikawa.Thank you for your support!
Akira Minamoto
Akira is the captain of the team and a star player of the futsal national team as well. His goal performance called "Minamoto pose" is very popular among futsal fans. His indispensable experiences in a Spain futsal club, strong leadership, and skillful plays have been capturing the heart of futsal lovers. Now, Akira is heading for winning the F League championship with his positive attitudes and magic words: a man can realize what he imagines!

How to enjoy watching a futsal
Five players in each team play the game in a small coat one-ninth as large as a soccer field. You will find how fast the game develops. In one game, both teams have many pinches and many shooting chances. I enjoy the thrill in each game. As it is an arena sports in which you can watch the game at close range, you can directly feel their powerful movements. Tachikawa has a wonderful arena. Please come and cheer us up!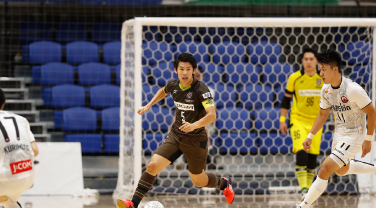 © Fuchu AFC
FUCHU ATHLETIC FC
"Robust and powerful" is the team's image since many players have a very powerful, muscular physique. But recently you will find that the team has been well organized by the combination of those robust men and some new young players who have the ability to move quickly. "Flying High" is the team slogan. With this slogan, we will leap ahead from the hometowns of Fuchu and Tachikawa.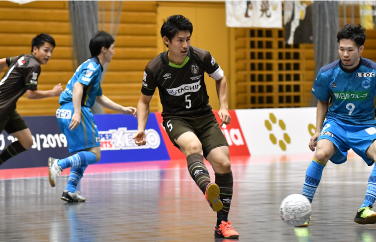 © Fuchu AFC
The meaning of the emblem
The main design of the team emblem is two horses, as the team was born in Fuchu, which is very popular with horse races. The team color is brown, which is unusual in the world of fottball. The team color of German's FC St.Pauli, Toru Miyauchi's team, is also brown. The color can give the impression of uniqueness and individuality, but our staff members seem to have difficulty in finding training wears and items in the color.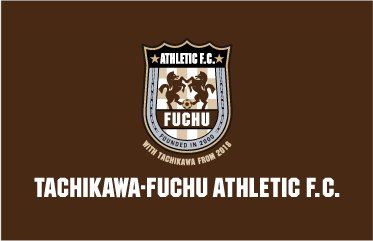 © Fuchu AFC
Akira's recommendation
Take-out food and desserts
Adam's awesome PIE
I love hamburgers! So, my hobby is looking for delicious hamburgers.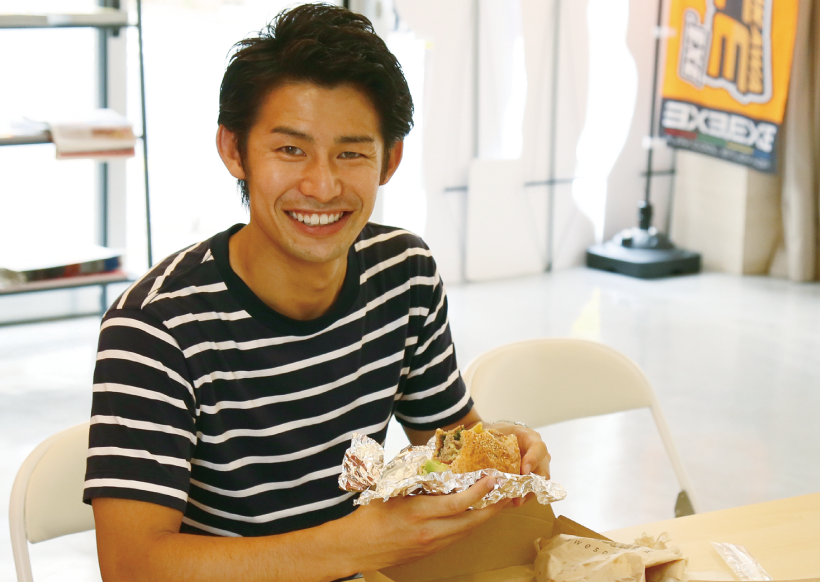 Hamburger with apple and avocado!?
This is new and very tasty!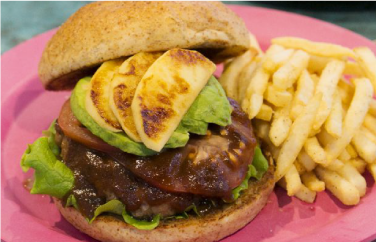 Akira likes going out for a delicious hamburger shop in his holiday. He introduces you the Adam's Hamburger of Adam's Awesome Pie. The hamburger is specialty of the shop which is originated from a fruit shop.