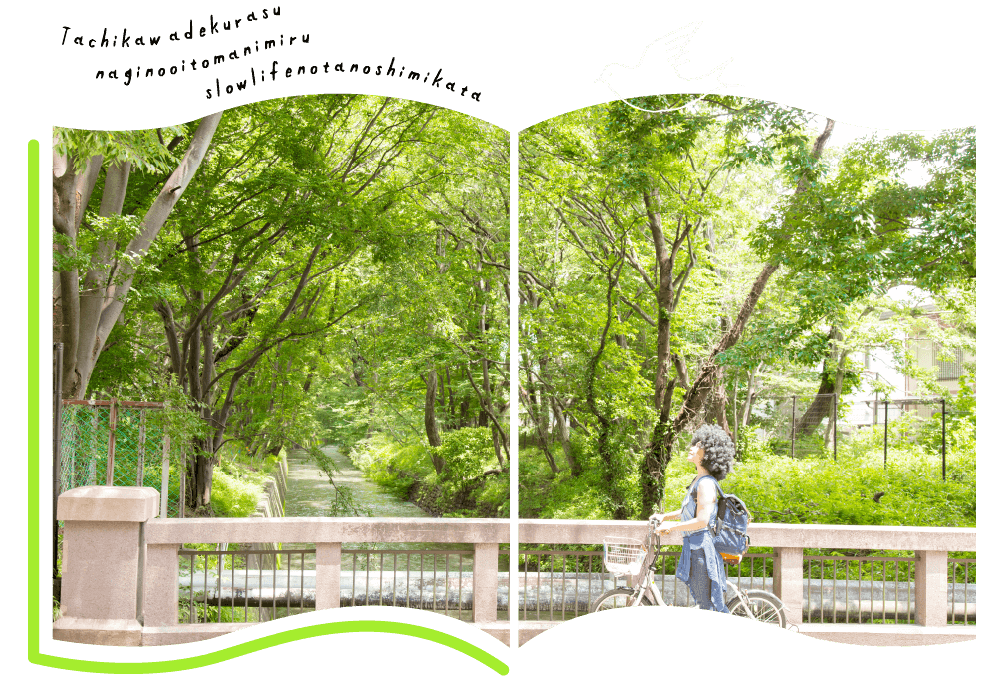 Life in Tachikawa

Just like Nagi of a popular TV program,

Nagi-no-Oitoma

~Live a Slow, Amusing, and Joyful Life~
A comic book called Nagi-no-Oitoma tells a story about a woman who gets a fresh start in Tachikawa. Nagi Ohsima, who is 28-year-old and the main character of the book, has a very receptive personality and always adjusts herself to others. She feels really exhausted by stressful days in urban life and moves to the city of Tachikawa to change her life for the better. Getting JR Chuo Line for 25 minutes from Shinjuku, she arrives at Tachikawa. What waits for her is a peaceful and pleasant slow living life. In the city, she also enjoys a convenient and well-organized urban life.
The city of Tachikawa has been rapidly developed by the construction of a variety of office and retail shops, while you can see abundant nature giving you a sense of comfort. In this article, we introduce you the attractiveness of Tachikawa, the satellite city of Tokyo and the stage of Nagi-no-Oitoma, the popular comic book written by Konari Misato. As Nagi's way of living in Tachikawa completely grabbed the readers' heart, the story was made into a TV drama this year.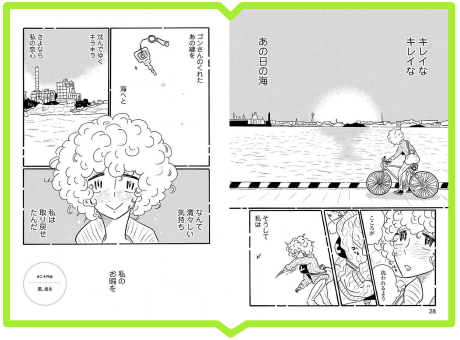 © Misato KONARI(Akitasyoten)2017
episode

Riding out on the wind, and moving forward!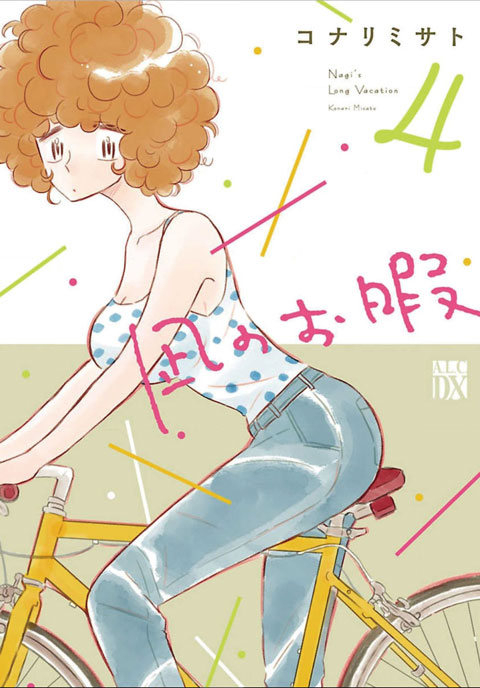 Nagi, who has been always afraid of making mistakes and not trying any challenges in her life, decides to ride a bike. This riding-a-bike scene in the book shows her strong will that drives herself to a next stage.
T-BIKE, a bike rental shop, is located in the 2nd floor of Tachikawa Tacross in the north exit of Tachikawa station. Please enjoy a ride around the Sunsun Road running under Tama monorail, and then go to Tamagawa Josui from the station. You can see the historical water canal and road surrounded by nature, and some shops along the way.
T-BIKE rents a compact and smooth running electric bike to anyone who is over 16 years old with their photo ID at the price of 500 yen for 6 hours. You can borrow it 24/7. With the bike capable of cycling 61-kilometer long with only one battery, you can go uphill smoothly with three automatic gears. We promise you that the ride makes you feel absolutely wonderful while you enjoy looking at beautiful scenery riding on the wind.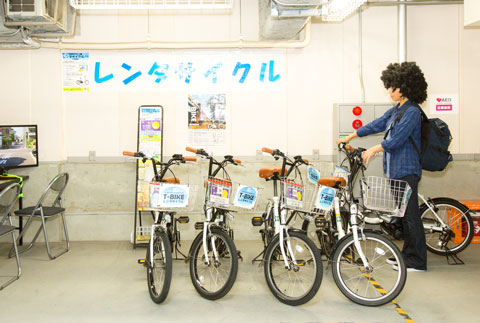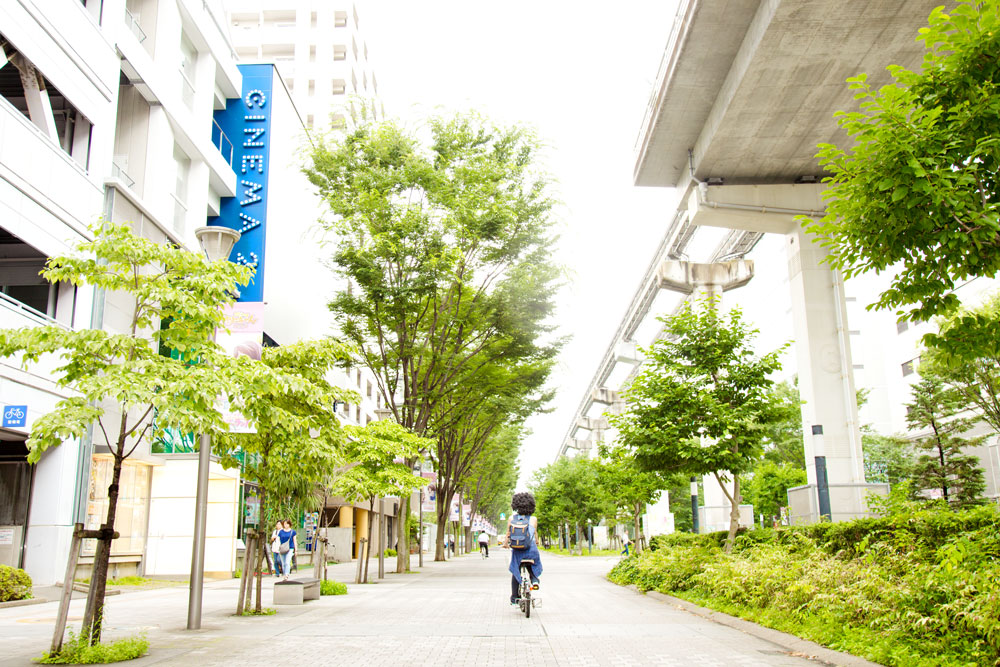 Let's ride around

and explore

something new
Sunsun Road
The road, with full of symbol trees and flowers of Keyaki and Kobushi, extending from the north exit of Tachikawa station under Tama monorail, is for cyclists and for pedestrians, so that you can be safe and comfortable for riding.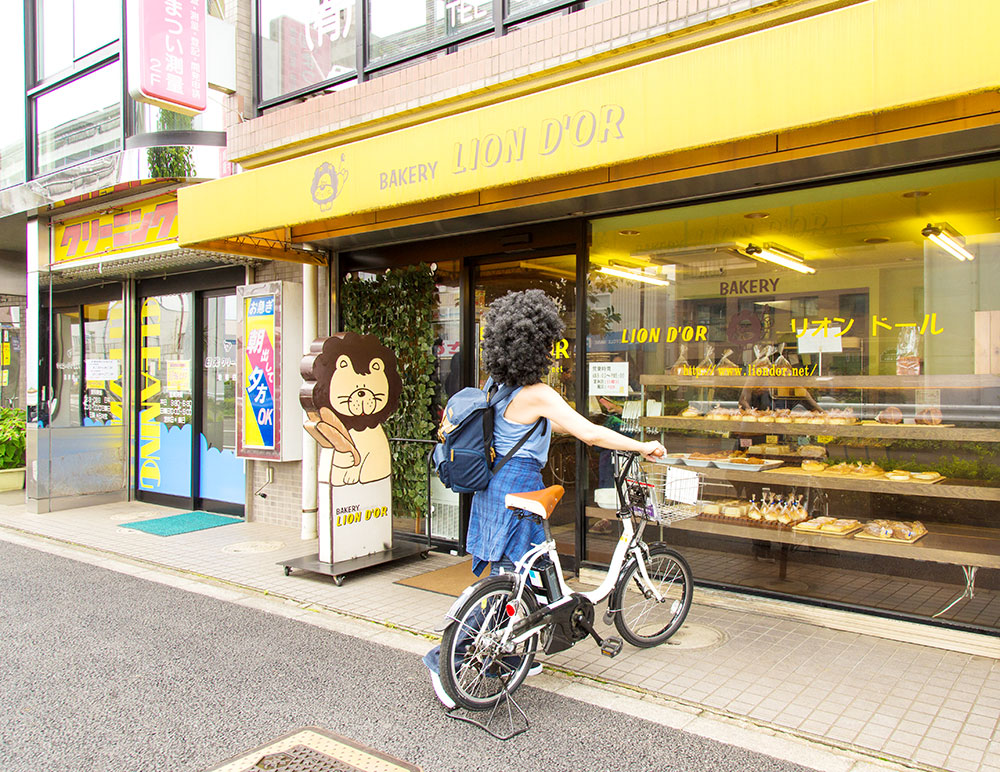 The smell of

fresh-baked bread

is inviting you
Lion D'Or
It is a very popular bakery near Sunagawa Nanaban station on Tama monorail. You will see the yellow roof and a lion-shaped signboard outside. The bakery bakes very delicious and healthy bread such as home-made pizza and curry-taste bread.
You can stop by anytime when you find a good place while riding. That is the special way for bike riders.
Lion D'Or TEL.042-535-4882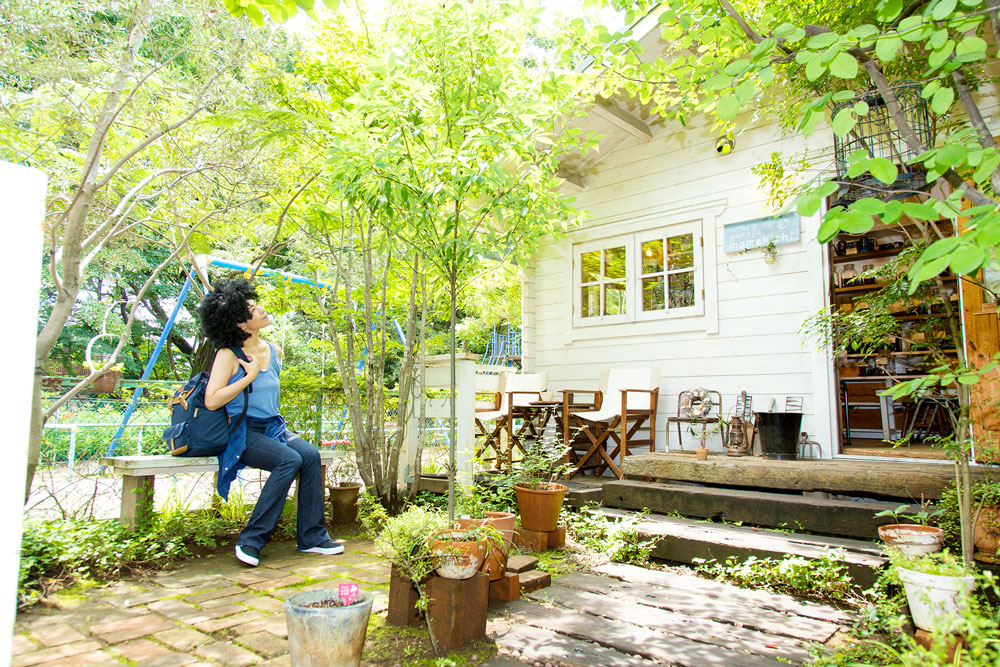 Take a break

at a green garden

with gentle sunlight

under the tree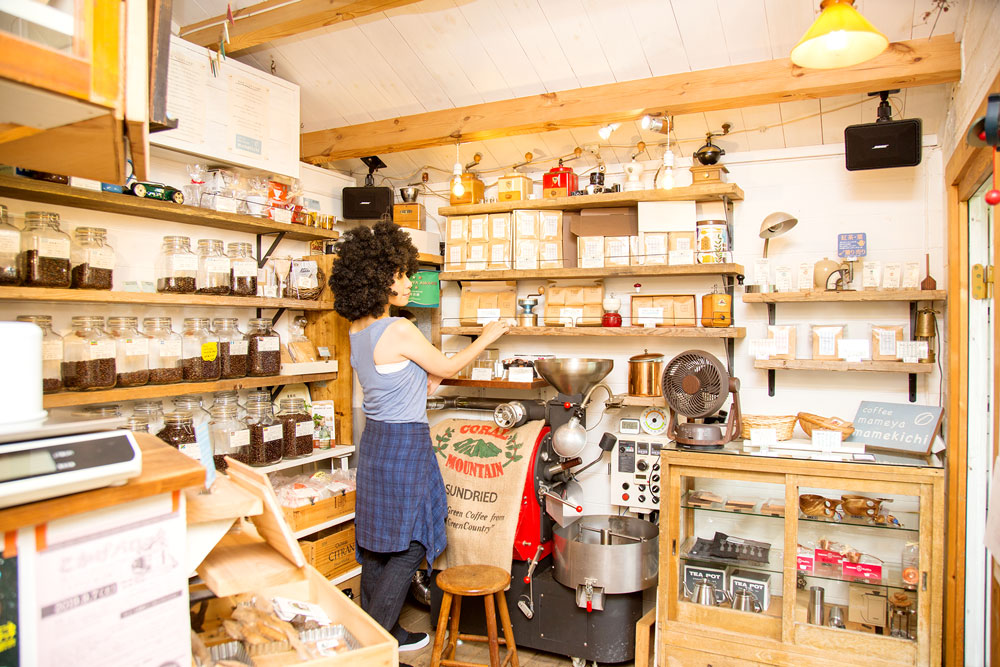 Roasted Coffee Shop Mamekichi
Take a rest at a cozy café with a terrace, Mamekichi. The shop is surrounded by trees and shrubs in Tamagawa Josui area. You can enjoy the clear-flavor coffee roasted by a unique hot-air roaster. How precious it is to spend a cozy time in such cafe looking at fresh and beautiful greenery.
Roasted Coffee Shop Mamekichi TEL.042-535-1070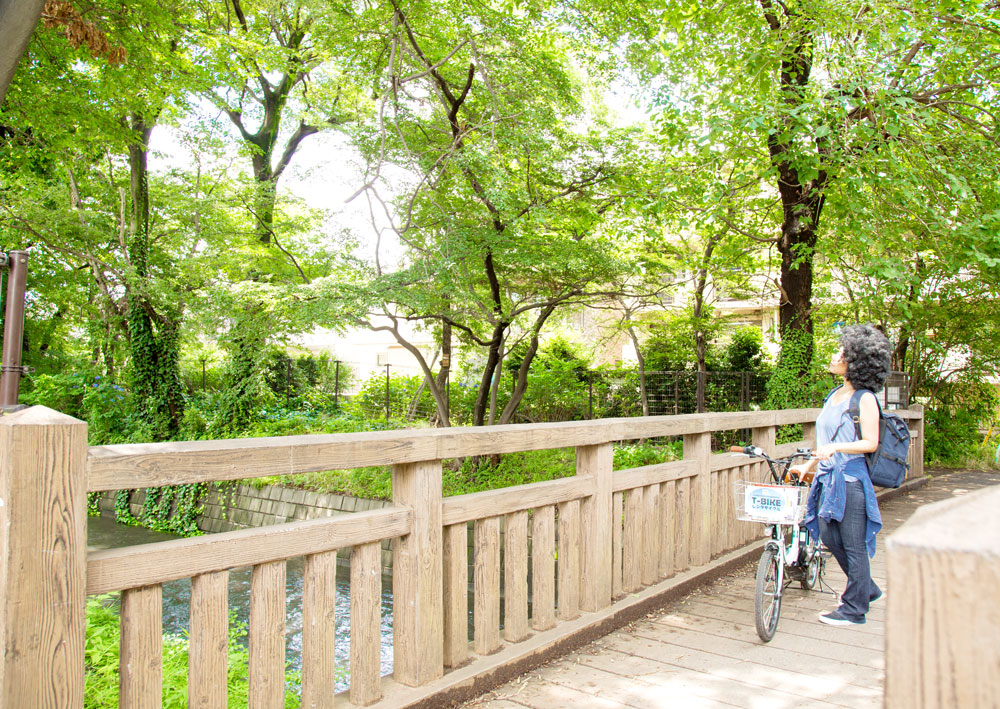 The nature

gives you

some peace

of mind
Cycling around Tamagawa Josui
You will find many peaceful places which give you a relaxation when you cycle around Tamagawa Josui area with lots of trees and green leaves. The sound of water stream from the waterway takes your stress and worries away. Don't you think it sounds wonderful and lovely if you become a traveler just going for a little bit far place by bike?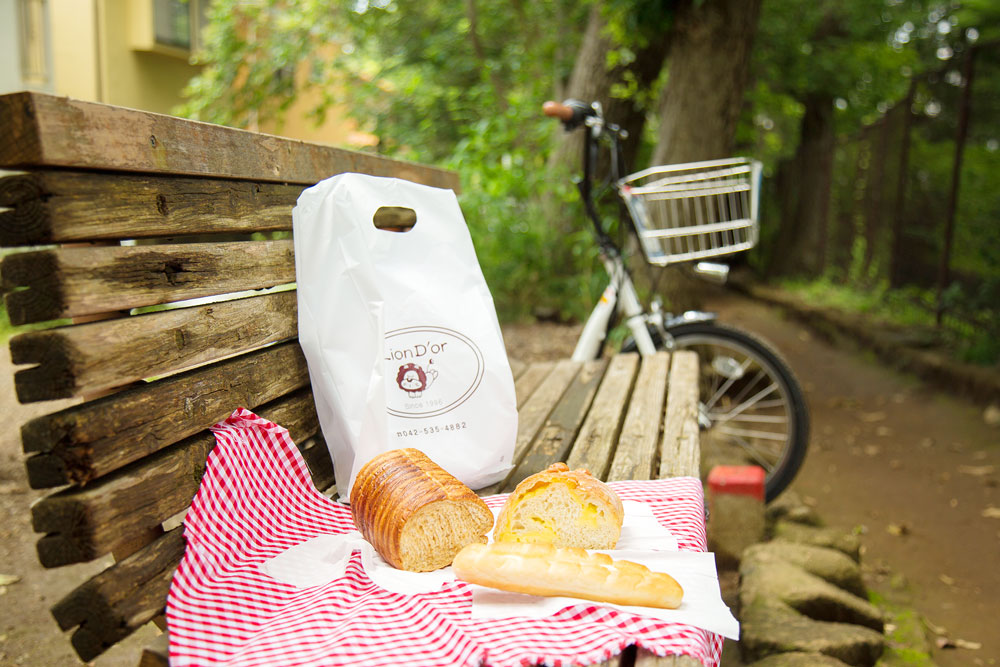 Let's eat some

freshly baked bread

for lunch with

the song of bird
Take a rest at a bench
Why don's you like to have a lunch break at a bench under the tree? You could surely have a wonderful lunch time eating some delicious bread in a fresh beautiful air. Spreading a cloth on the bench, you will enjoy a picnic lunch.
Clockwise from the right side of the back of the picture: Cheese France for 310 yen, Milky France for 170 yen, 1/2 of maple flavor bread for 300 yen (All prices include tax.)
episode

Heartwarming hospitality and services for customers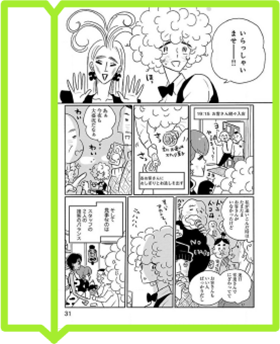 © Misato KONARI(Akitasyoten)2017
Nagi started a part-time job in a bar counter by accident. She is impressed with the owner's heartening services to customers. Being moved by the hospitality, she considers again her relationships with others and how to build a comfortable relationship with her friends and loved ones.
We introduce you such cordial restaurant which gives you a great hospitality. We heard that every guest of the restaurant feels like ordering dishes more and more. We visited the restaurant to find out the reason.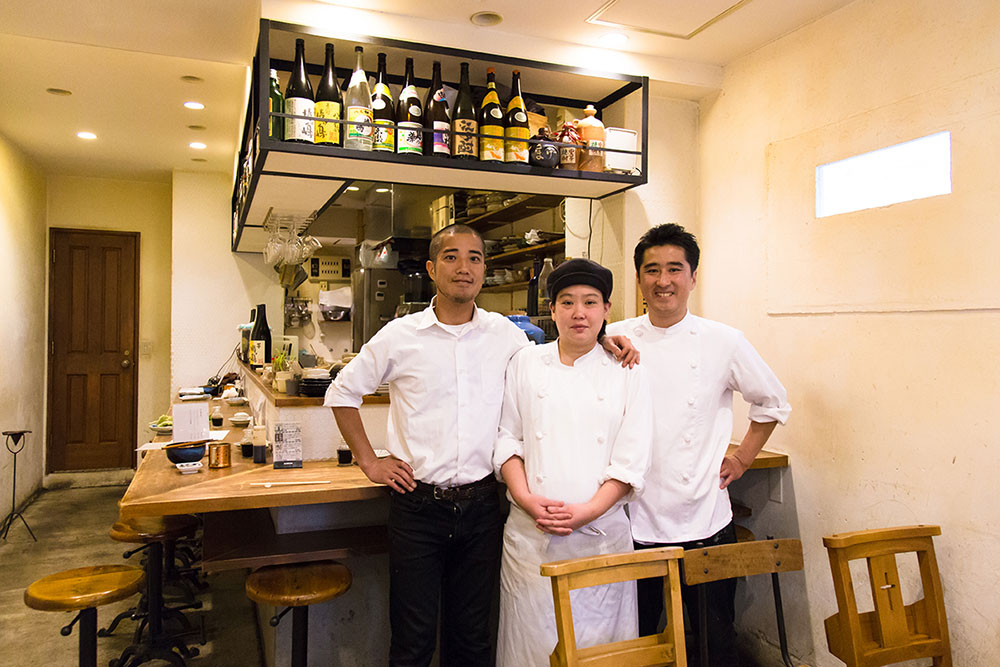 Japanese Cuisine

Sato teaches you

the hospitality
Japanese Cuisine Sato
The restaurant provides savory Japanese creative local island cuisine of Hachijo-jima, the south of the special wards of Tokyo. The Sato brothers, the owners of the restaurant, cook fresh fish and seafood, and Angelica keiskei called Ashitaba and Kusaya, ferment fish from the island. You can enjoy best Japanese sake and wine from the cellar, and good Shochu from Hachijo-jima along with the cuisine.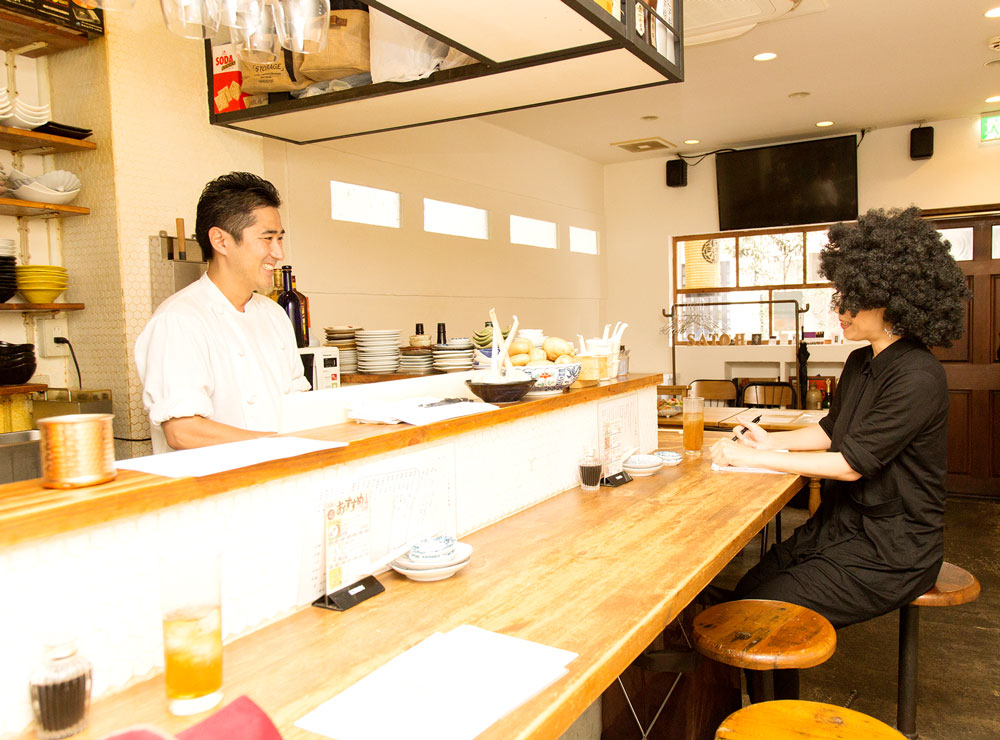 The more you know

the local island cuisine,

the more you are

attracted to the dishes
Delicious dishes and selected Shochu for your precious dinner
"Talking and listening to customers, we will learn their appetite and favorite. We would like our customers to spend a good time here, so we will very care about when we offer meals and drinks for them," said the owner.
Mr. Sato gave some information on the specialty of the day at first and added some comments of the dishes and drinks to make a better choice. That is the reason many customers want to enjoy the meal more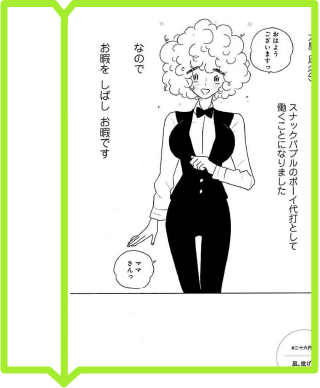 © Misato KONARI(Akitasyoten)2017
Hospitality by the owner of Japanese Cuisine Sato "Pairing of an island dish and island shochu"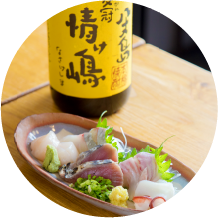 The restaurant serves today's very fresh fish and seafood from all over Japan. A dish of a variety of Sashimi is 2,600 yen. You can enjoy the plate with deep and rich taste Nagijima Shochu (600 yen), barley liquor.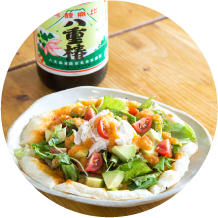 The pairing of food and Shochu that the restaurant recommends: Home-made boiled chicken and avocado salad with original carrot dressing is 1,350 yen. Enjoy with mild sweet flavor Yae Tsubaki Shochu (600 yen) which is blended by barley and sweet potato.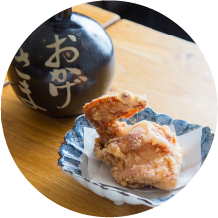 Delicious crispy, juicy and salty flavor fried chicken is 700 yen. Enjoy the dish with bourbon flavor Okagesama Shochu, well-aged Nasakejima Shochu (1,000 yen), which had been put in a cask for more than three years.
episode

Over 10,000 comic books in a public bath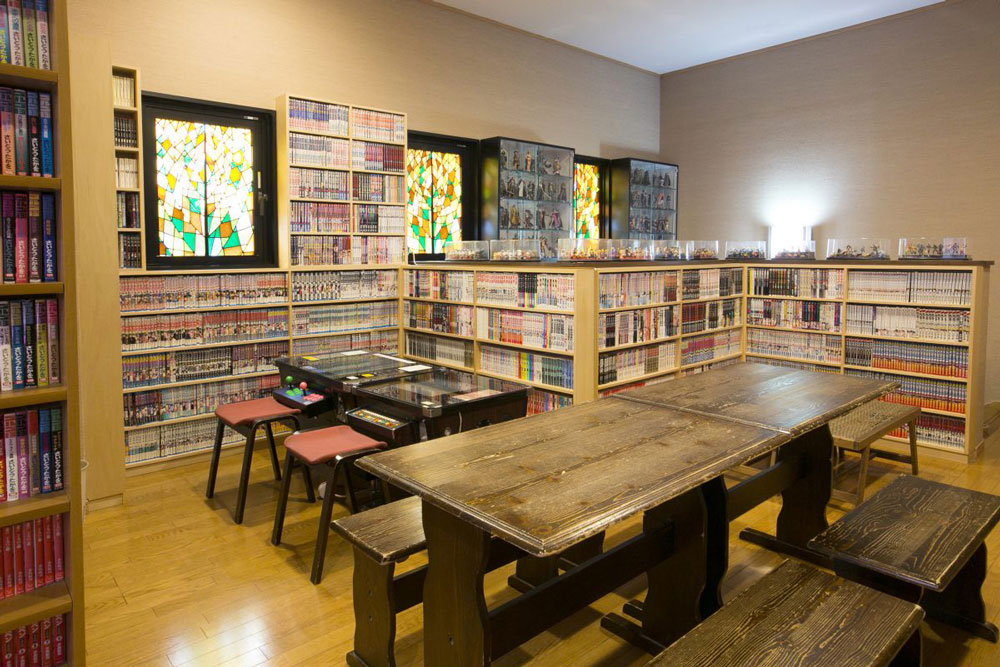 Have a pleasant time

after taking a bath

Enjoy reading
comic books as many as
you want drinking a
a coffee milk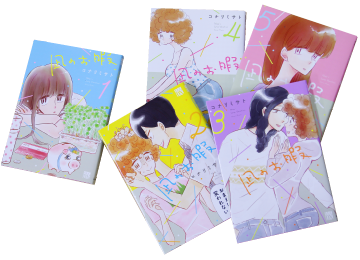 Ume no Yu
It is a very popular public bath which has more than 10,000 comic books. Go to Ume-no- Yu, if you want to know about Nagi-n -Oitoma more.
Why don't you soak yourself in the story after soaking yourself in the hot bat♪
Ume no Yu TEL.042-522-3800