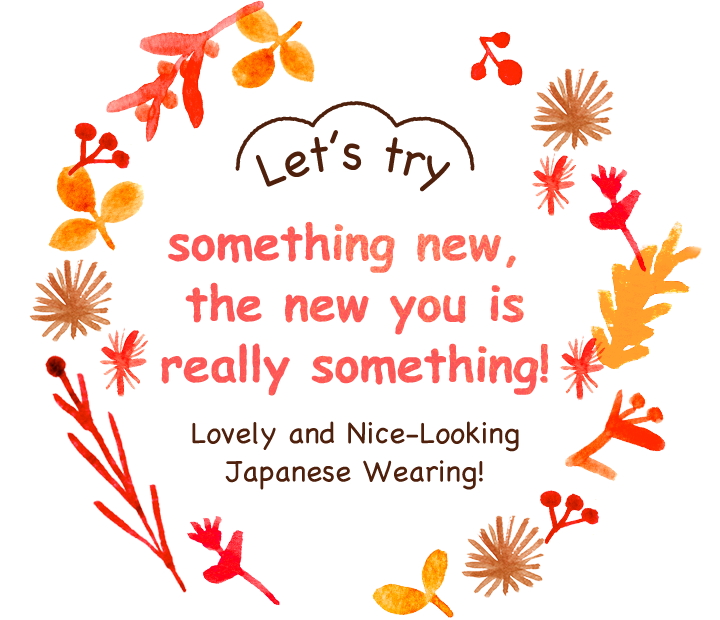 "I like dressing up in with attractive and stylish outfits, but with Kimono?" Many women and girls want to wear Kimono more often in a casual way, yet they avoid wearing a traditional Japanese dress because of its complicated manners and etiquettes that change with seasons and places to wear it. How to put on a makeup matching Kimono? How to dress traditional Japanese outfits in neatly and smartly? Let's learn the basic manners of Kimono and appear more attractive in anytime and anywhere.
It's past years since I wore Kimono last time.
Do you want to try it on again?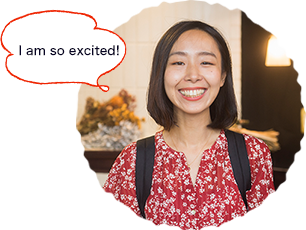 Aimi Chiyoya,
an illustrator and painter
Aimi Chiyoya, from Tachikawa, works actively as illustrator and painter in many fields. She drew some pretty pictures here in this issue. She has not had any opportunities to wear Kimono since she wore it in the coming of age ceremony at the age of 20. "I've always wanted to wear Kimono elegantly. Today, I am looking forward to seeing myself after I get changed into traditional beautiful clothing. I can't wait for that!", said Chiyoya.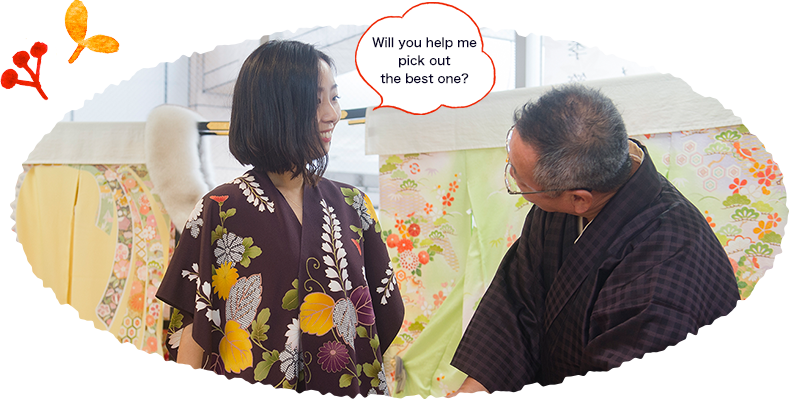 Graceful Kimono and a lovely Obi for the special day!
Let's go and get expert advices on Kimono! We visited an old-established Kimono shop, Hot Space Nakaya, which has run the business since Taisho period (1912-26). The owner showed Chiyoya a set of beautiful Tsukesage Kimono and Obi which are appropriate for a variety of opportunities such as business parties, receptions and wedding parties. You will charm people and give a warm impression with the light pink elegant Yuzen Kimono with seasonal flowers dyed by hand and gorgeous Nishijinori Obi.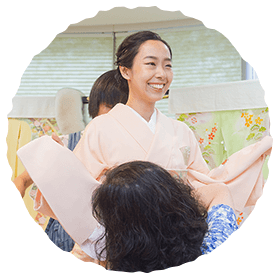 Hot Space Nakaya
Shin Nakazato, the third generation of the shop
"There are two types of Kimono worn on different occasions for formal scenes and semi-formal events. Please contact us anytime if you have any questions of Kimono," said Nakazato.
Hot Space Nakaya TEL 042-522-2932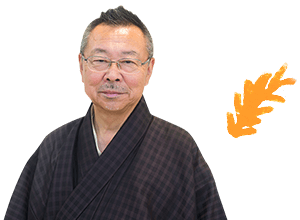 Feminine hairstyle and makeup for Kimono
Don't worry about a hair style and a makeup for Kimono-style. Go and ask the professional stylists. You will get a lovely hairstyle and makeup produced by them. How nice it is, isn't it? HAREKE loopidia, next to Nakaya, will help you to style your hair and put your makeup on. Making your hairstyle better and wearing your makeup for your age are keys to the success in Kimono wearing.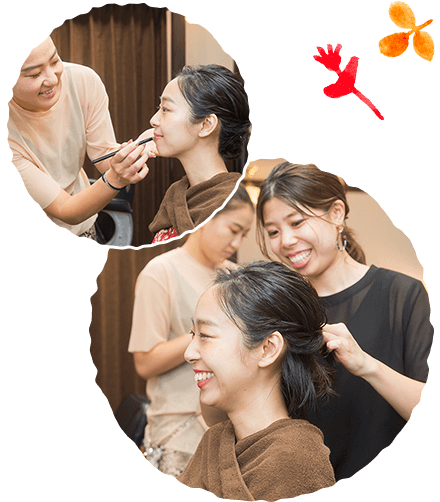 HAREKE loopidia
Ms. Mika Yoshida, a stylist of the salon (on the right hand of the picture)
Ms. Yuka Imai, a makeup artist of the salon (on the left hand of the picture)
Ms. Yoshida got Chiyoya's hair done with simple and gentle-looking style.
Ms. Imai applied chic and elegant makeup to Chiyoya
HAREKE loopidia TEL 042-525-8080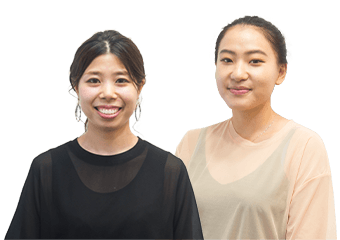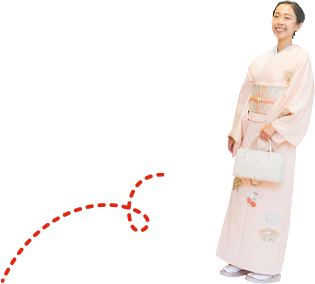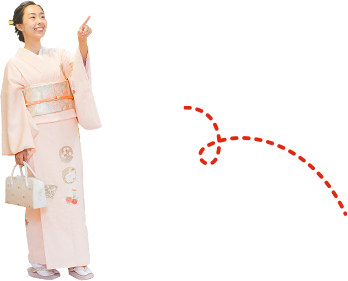 Enjoy wearing Kimono more casually
Would you like to wear Kimono more often in your daily life? Komon Kimono, a type of Kimono that suits for casual occasions, allows you to wear it when you go for a shopping in town and for a lunch with your friends. You will find it more attractive to see a variety of traditional, stylish and modern patterns and variations. Dressing up in your favorite Kimono and wearing out into the city, you might feel like you wander into somewhere else.
What is Komon Kimono?
Komon Kimono, appropriate for non-formal wearing, differs from Houmongi and Tsukesage, a semi-formal Kimono. Komon Kimono has many varieties of motif and patterns, which are created on the entire Kimono, by handwriting or Katazome, a Japanese method of dying fabrics. Edo-Komon, Kyogata-Komon and Benigata-Komon are unique and very colorful patterns.
Komon Kimono, like a silk print dress, is the best to wear for casual parties, concerts, school reunion, tea ceremonies and dinner with friends. You will find it suitable and relevant to wear traditional Kimono along with Obi and other pretty accessories in these parties and events.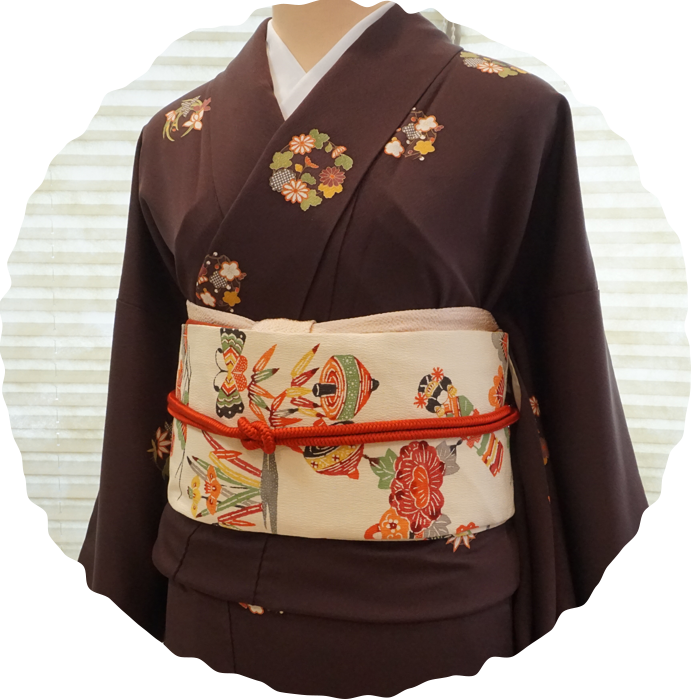 Would you stroll around Tachikawa in a beautiful Kimono?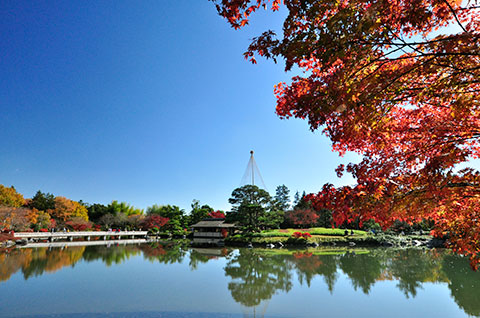 Showa Kinen Park
You can walk around the park seeing lots of flowers bloom by season. How about stopping by Kanputei, a tea ceremony house with a Japanese garden? Kanputei uses a Japanese traditional construction method called Sukiyazukuri. You could fully immerse yourself in the historical building with a beautiful garden.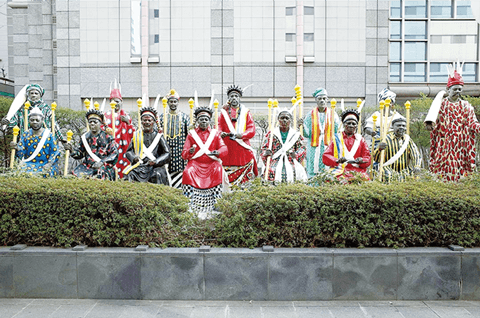 Faret Tachikawa Art
Modern arts and traditional Japanese dress. It sounds cool, isn't it? You can see various kinds of marvelous contemporary arts from all over the world in the area. We will recommend choosing a stylish Kimono designed by Uno Chiyo.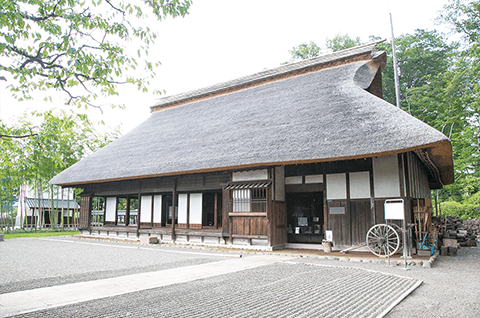 Kawagoedo Ryokuchi Kominkaen
You will feel like a heroin of a historical drama when you walk through the door of an old house with a thatched roof and a storehouse, which was built on the end of Edo era. The spacious atmosphere makes you feel relaxed and time travel to the period.