You may regard Tachikawa as a commercial town in the western outskirts of Tokyo. Looking out over the northern area of the city, however, you can find the fields of many kinds of vegetables and fruits in a beautiful rural landscape. We introduce you these fresh and delicious "Tachikawa Vegetables", which are used for various menus of the Tachikawa Award restaurants in the city.
Kururi and UdoraVisit to Amichan Farm,
Amino Vegetable Farm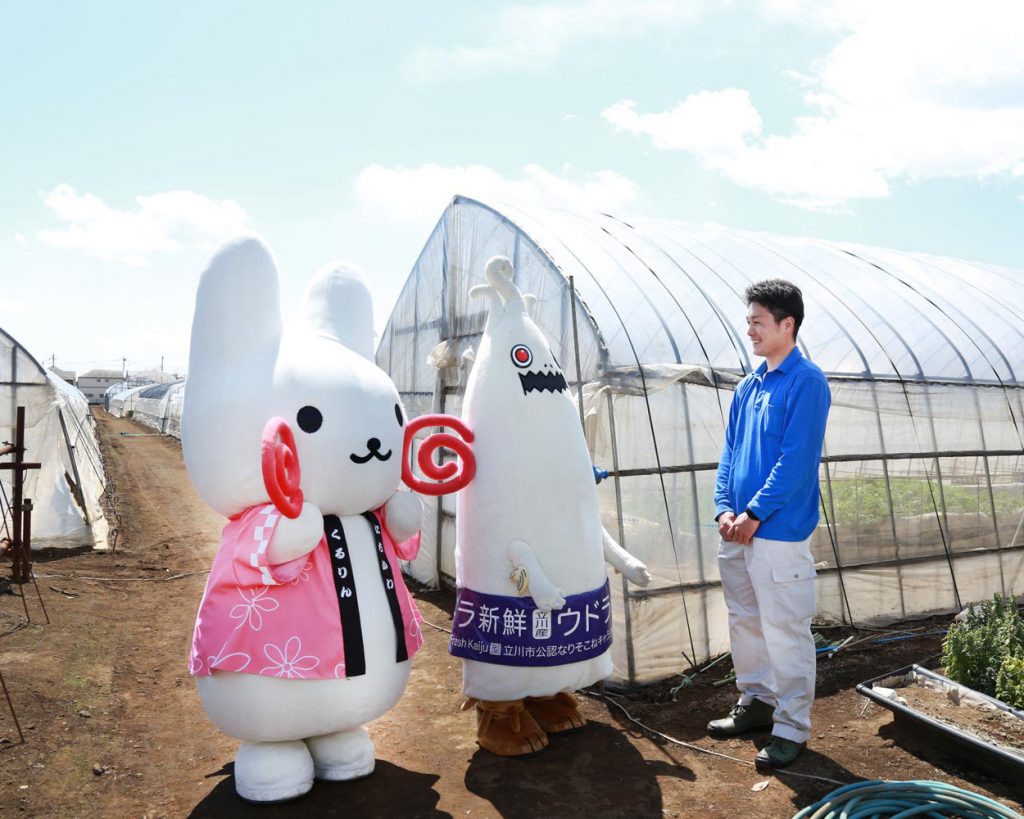 He is Mr. Amino of Amichan Farm.
What kinds of vegetables is he growing in the farm?
Amichan Farm, located in Sakae-cho, produces more than thirty kinds of safe, healthy and delicious vegetables such as tomatoes and turnips all year round. Using little pesticide, the farm also produces flowers that can be eaten. Kururin and Udora are very curious about the flowers. Could you introduce such flowers to us, Mr. Amino?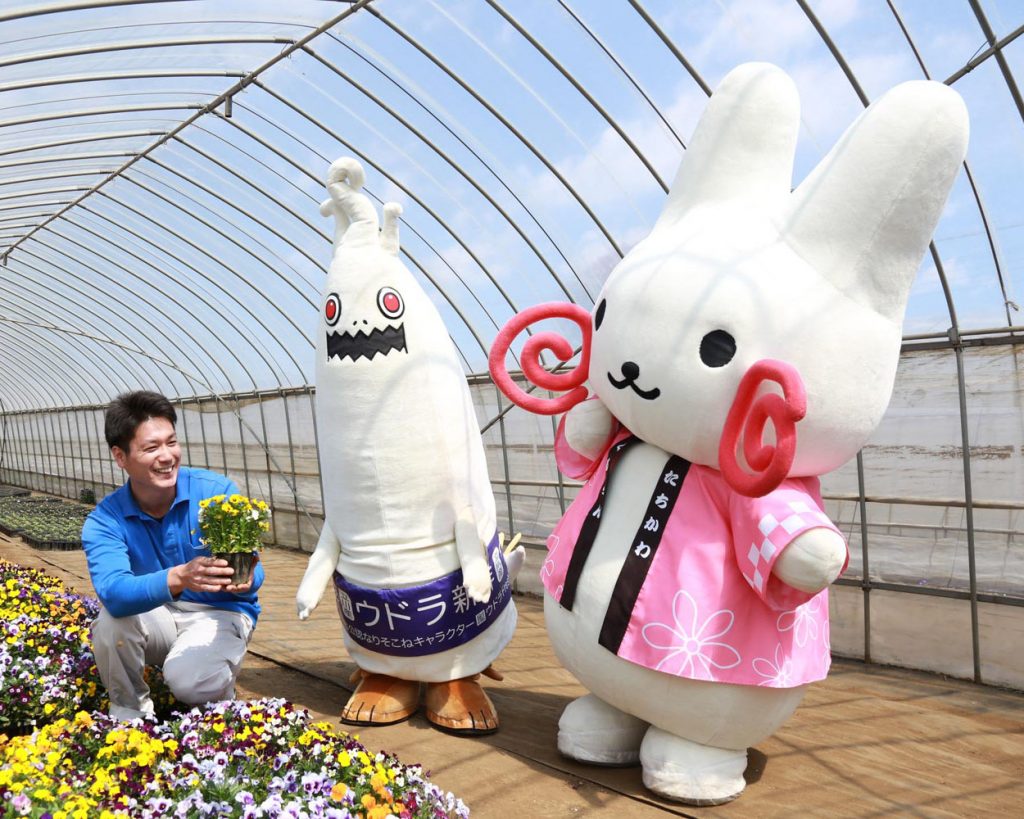 The vinyl greenhouse is just like a flower garden.
Wow, these all flowers are for eating!
The house, which is filled with many beautiful and colorful flowers, is just like a flower garden. "They all are edible flowers, which you can eat." said Mr. Amino, "You can add them to salad, cakes and other foods." Recently these flowers attract consumers as safe and nutritious ingredients. You can see in some TV programs these edible flowers of Amichan Farm.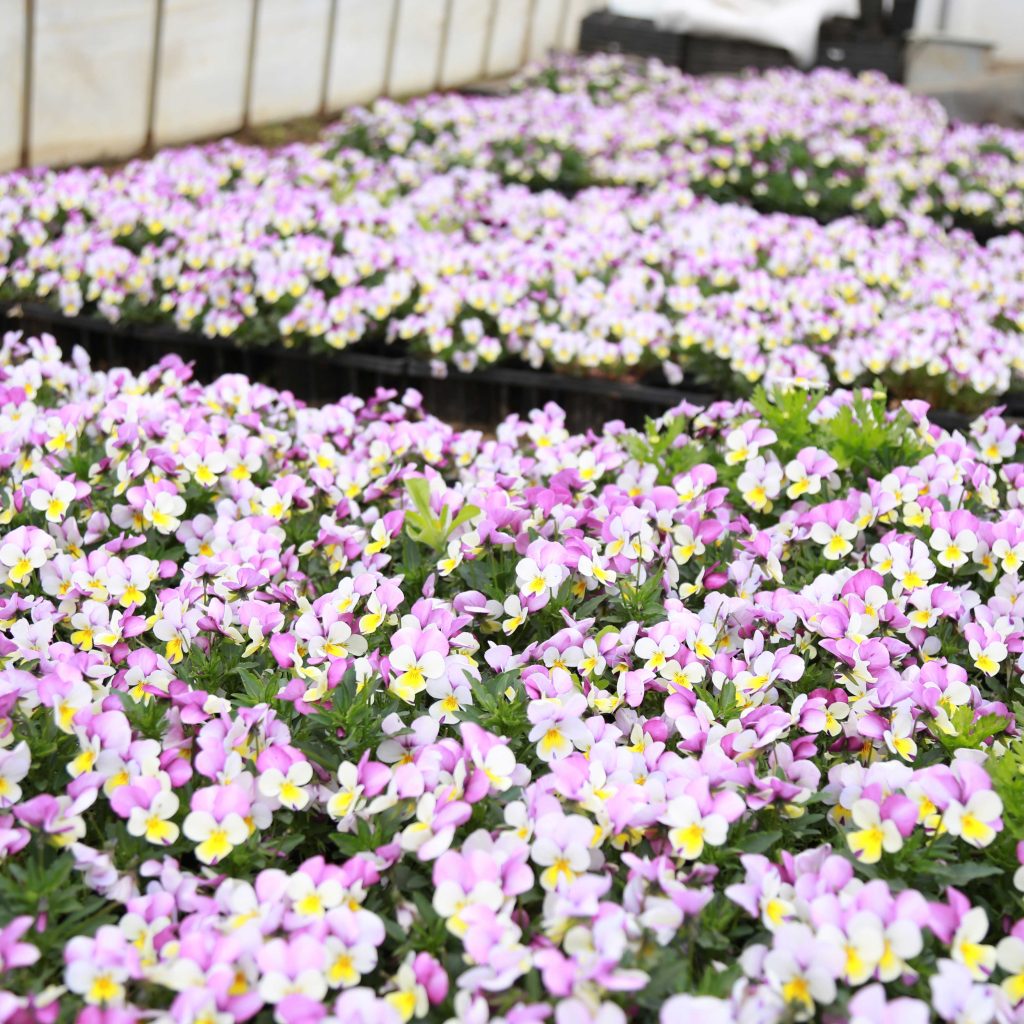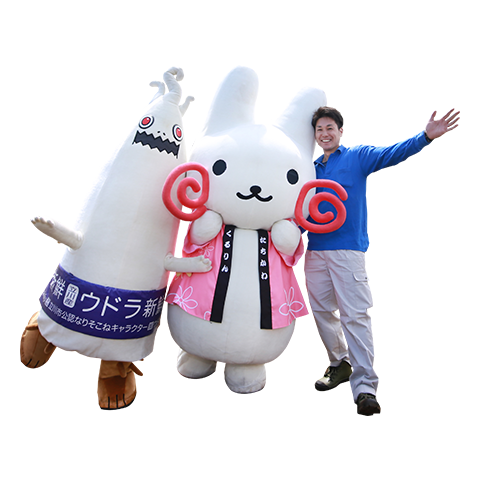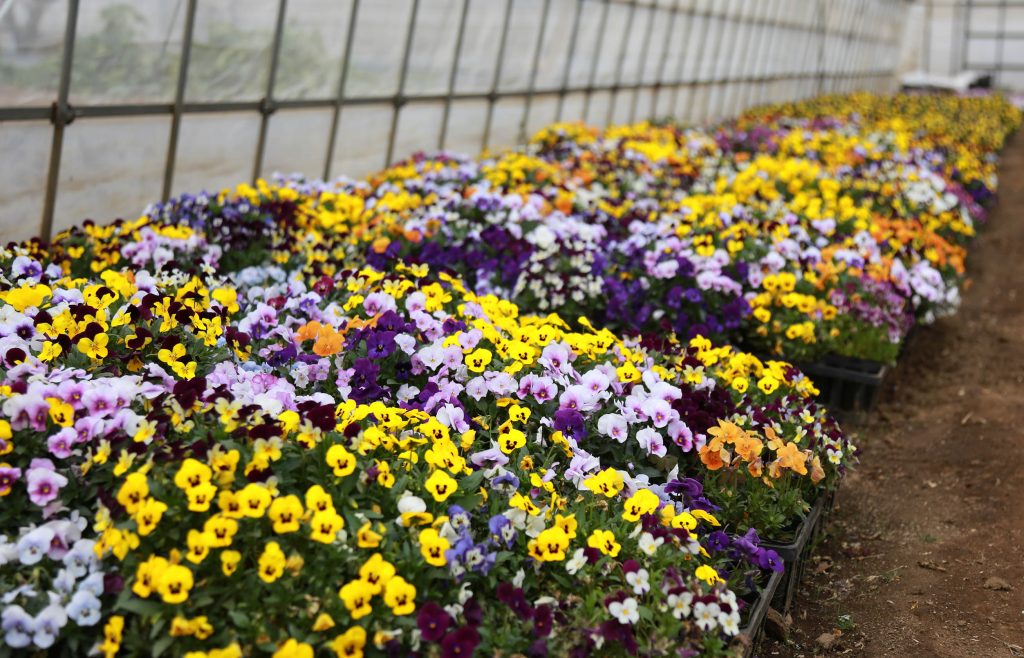 Many different species of beautiful edible flowers!
There are Viola, Calendula, North Pole, Primrose, Nasturtium, Stock, Snapdragon, Petunia, Carnation, and so on. "Wow, can we eat all these flowers?" Kuruin and Udra were very surprised at seeing so many types of the flowers. You can order only one box or more boxes packed with about twenty kinds of the flowers. Please see the detail on the website below.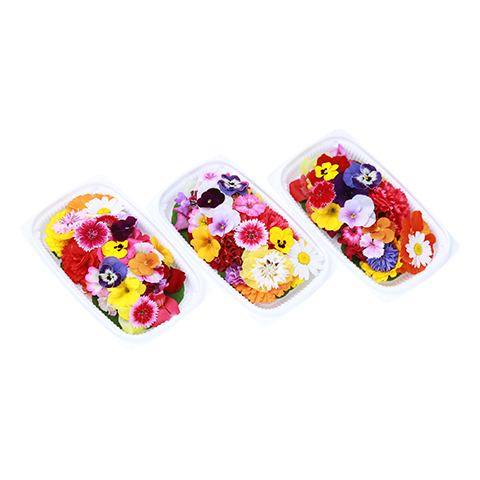 Amino san Family: they grow delicious vegetables and beautiful-colored edible flowers. Please enjoy the local vegetables!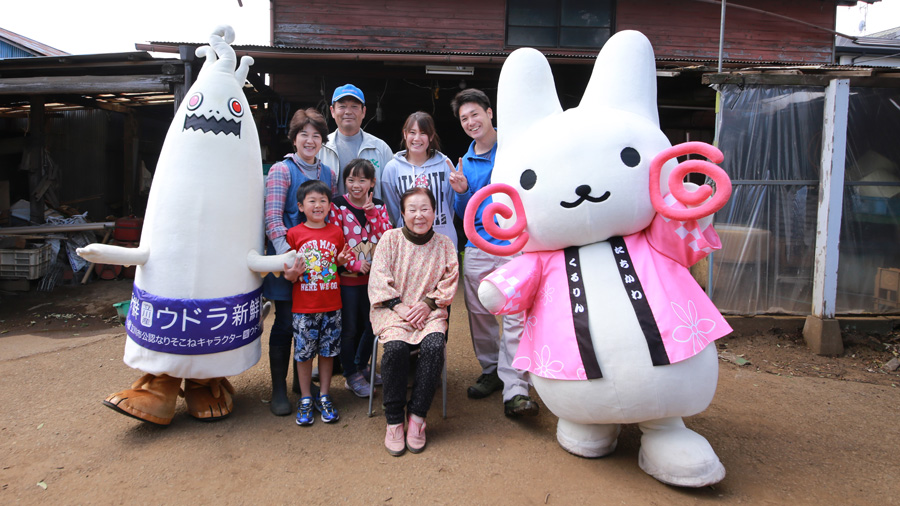 The Restaurants in Tachikawa Where We Can Enjoy the Edible Flowers of Amichan Farm
Adam's awesome PIE
A popular wedding cake with beautiful edible flowers
Adam's awesome PIE is a cafe and dining bar, which is run by a grocery store. Mr. Yutaro Netsu, the owner of the cafe and the third generation of Netsu grocery store, provides many kinds of local fresh vegetables and fruits at the salad bar in the café. He focuses on providing safe, healthy and delicious vegetables that are produced in Tachikawa area. Amichan Farm provides the tasty and fresh vegetables of the Farm at the bar. You can find not only the local tastes but also the local relationship between Mr.Amino and Mr.Netsu, who were classmates.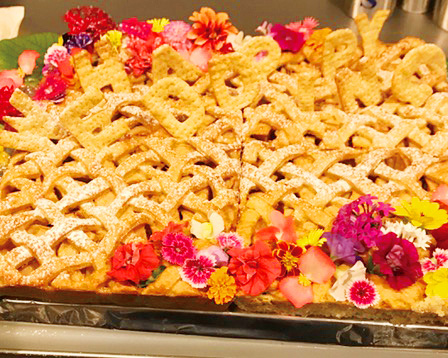 Mr. Yutaro Netsu says;
"The wedding cake decorated with blight and beautiful-colored edible flowers is popular in a wedding party. And other dishes such as blue papaya Kinpira at the salad bar, introduced by some mass media, is famous for its tastes and the uniqueness. The papaya, one of uncommon vegetables, is produced by Amichan Farm."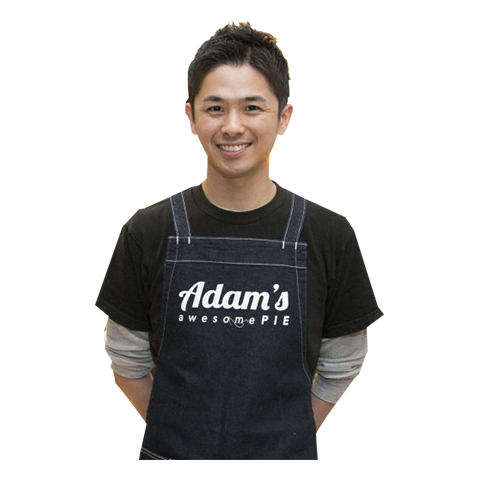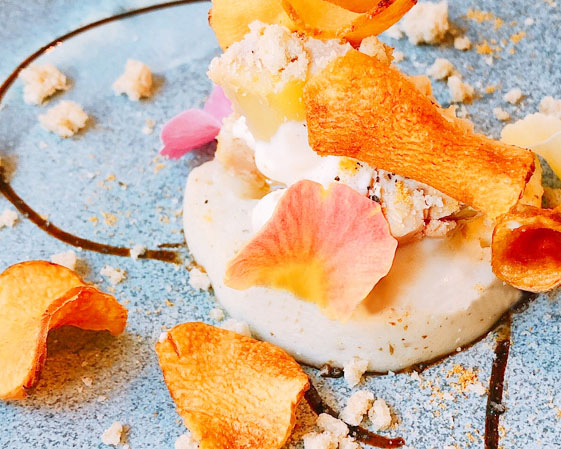 Chez Tasuke
The French restaurant offering scrumptious and wonderful cuisine in season
The long-established French restaurant offers the best dishes using the perfect ingredients in season. You can enjoy the dishes with the full of flavors. Chef Ishizuka offers the dishes using many fresh and seasonal local foods including edible flowers in Amichan Farm and some fruits from Takahashien Farm in Tachikawa.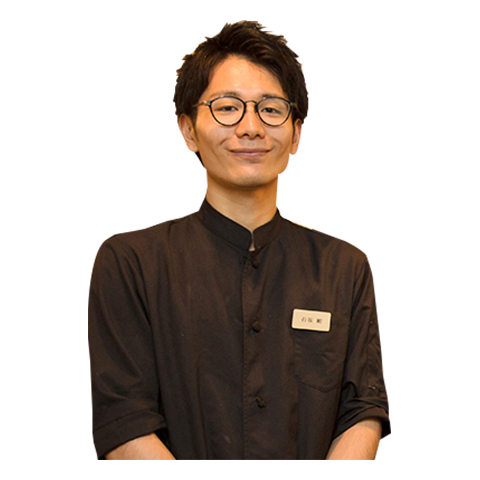 Mr. Tsuyoshi Ishizuka, the chef of the restaurant says;
"The edible flowers of Amichan Farm are not only very bright and beautiful in color but also have wonderful tastes and smells. For example, Begonia, sour-taste flower, is good for desserts and meat dishes. You will find the smell good and refreshing when you eat with meat dishes."

Other Farms Producing "Tachikawa Vegetables"
Koyama Farm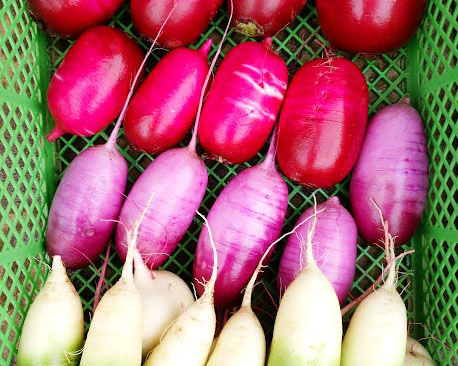 Many-colored Vegetables and European Vegetables
Koyama Farm, located at near Yokota Airbase, produces a variety of colorful vegetables including European vegetables, carrots, broccoli Romanesco and red radish called Beni-Kururi. The farm contracts with some restaurants in Tachikawa and directly delivers its fresh vegetables. The owner of the farm thinks it important to have face-to-face communication with those chefs.
Takahashien Farm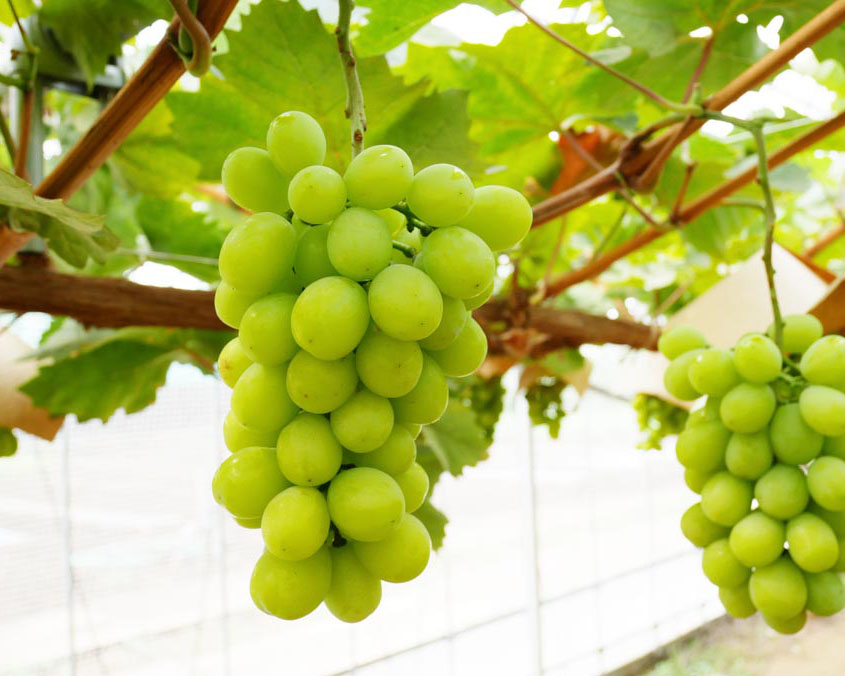 The farm producing sweet and delicious fruits such as blueberries and figs and more
Takahashien Farm, aiming at organic farming with little pesticide, produces and delivers sweet and luscious fruits such as blueberries, figs and peaches, Shine Muscat grapes to consumers.
[Takahashien Farm]
TEL : 042-536-2345
Mail: 7016.com@gmail.com
Other Local Stores Selling "Tachikawa Vegetables"
Yasai Chokubaijyo,
a local vegetable store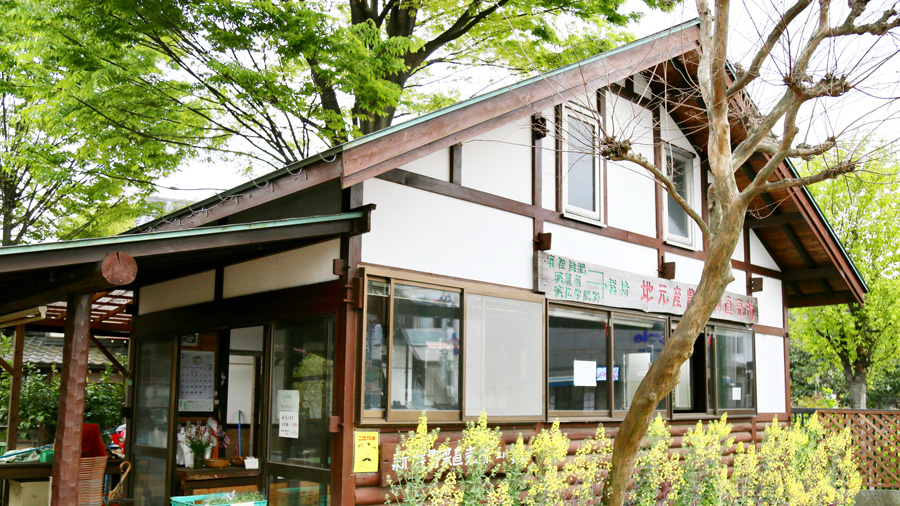 Mr. Kasuya opened his local direct store in Sakaecyo 2-chome thirty years ago.
Mr. Hideo Kasuya, the president of Tachikawa Agricultural Committee, says;
"Many local stores sell garden-fresh "Tachikawa Vegetables" to consumers. These are healthy, safe and delicious. Many local volunteer workers support the produce. My store sells not only vegetables in season but also other ingredients such as red herb shiso (or Perilla) for umeboshi and for red shiso drink. Red peppers and green peppers are popular with foreigners. Please enjoy the fresh tastes of the local production for local consumption."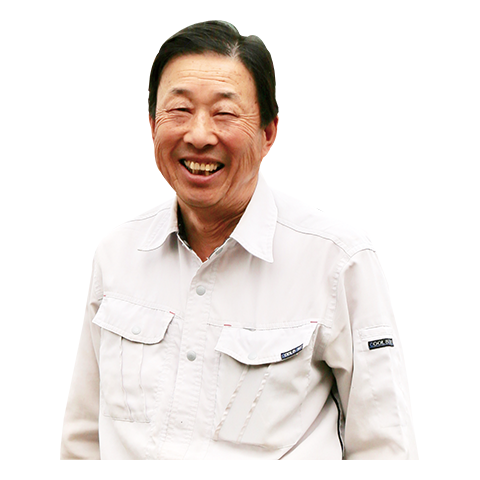 Noukaru, a local
vegetable store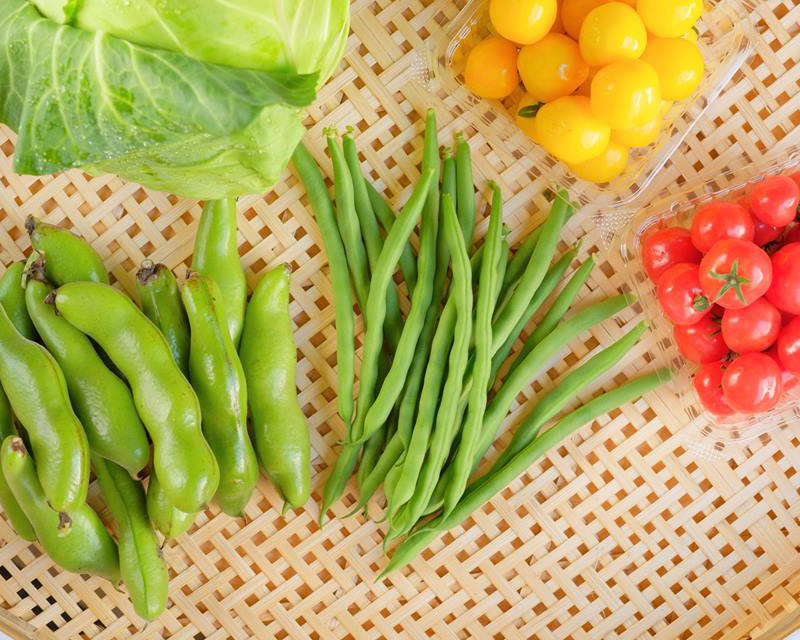 Is it a marche?!
The store selling the fresh vegetables of the local farmers
You can buy newly harvested vegetables produced in Tachikawa and other areas. You will see some unusual vegetables, which are a wide of produce in small quantities besides seasonal vegetables. The store is open till 7:00 pm. You can drop by there after work.
Farmers Center

Minore Tachikawa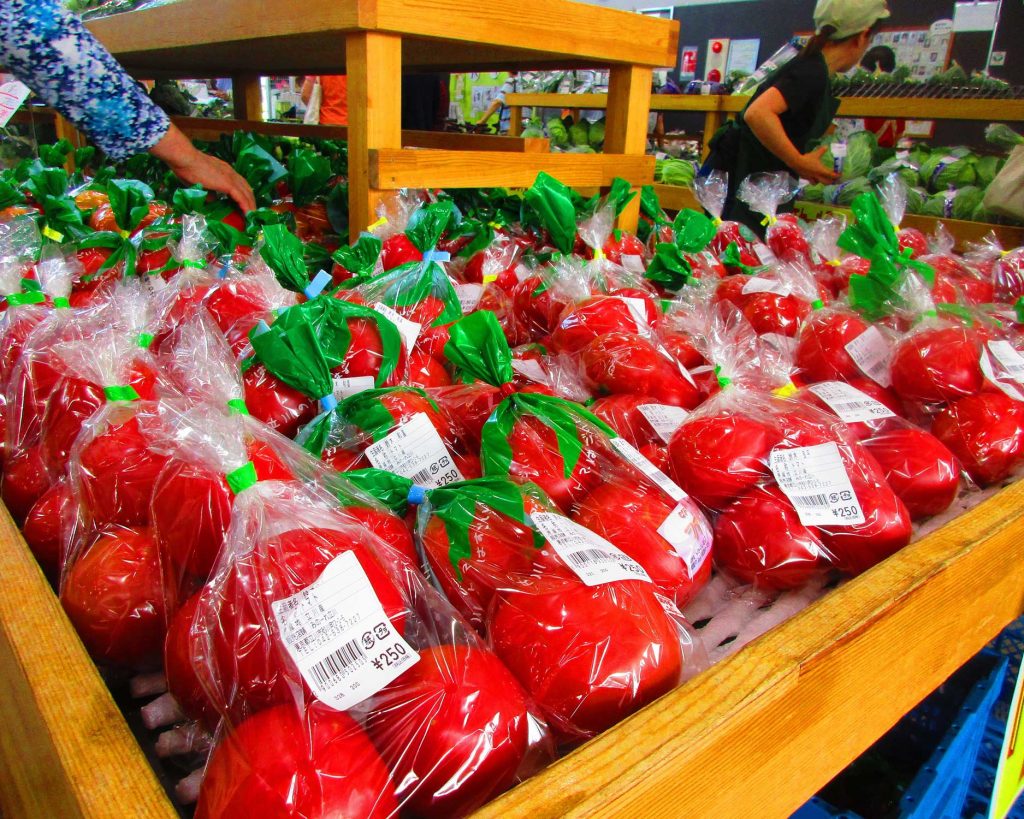 A marketplace for the neighborhood and a popular cafe
Minore Tachikawa sells the local farm produce. It has a café in which you can enjoy the local vegetables and meat menu. The facility plays a role of a business center in the city. It provides us with a variety of original and some recommended items from many places all over Japan besides the local farm produce. Also, tourists can get useful information of the city and the local residents can use the space for their communication activities. It sells vegetable plants, nursery stock and flower starts in the corner.

Enjoy "Tachikawa Vegetables" at the Tachikawa Award restaurants.
MOTHERS Tachikawa
Minamiguchi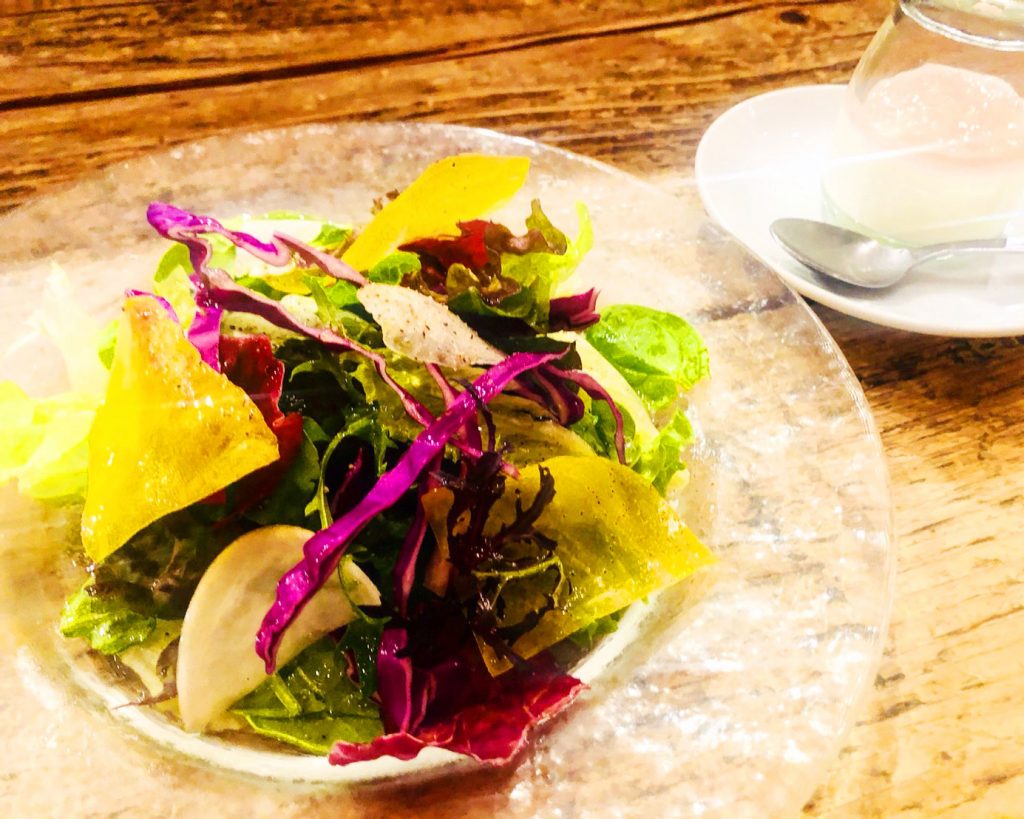 Organic Italian restaurant using domestic ingredients
The restaurant serves seasonal fresh organic vegetables and seafood which are delivered from various places all over Japan. It provides the menus using fresh vegetables of Oyama Farm.
Emille Floge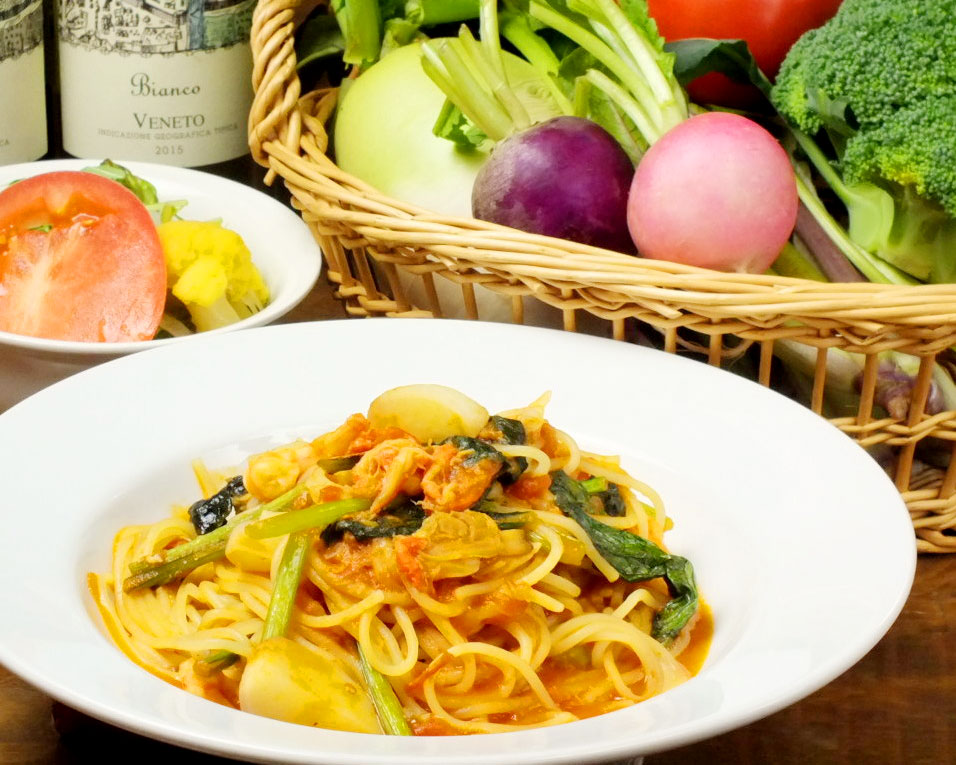 Enjoy five kinds of "Tachikawa Vegetable" dishes by months
The café provides the delicious menus with seasonal fresh vegetables of Minore Tachikawa, Nokaru, and other contracted farmers. The baked sweets and the pudding using fresh eggs of Ito Youkei jyo (chicken farm) in Tachikawa are very popular.
Tre Monte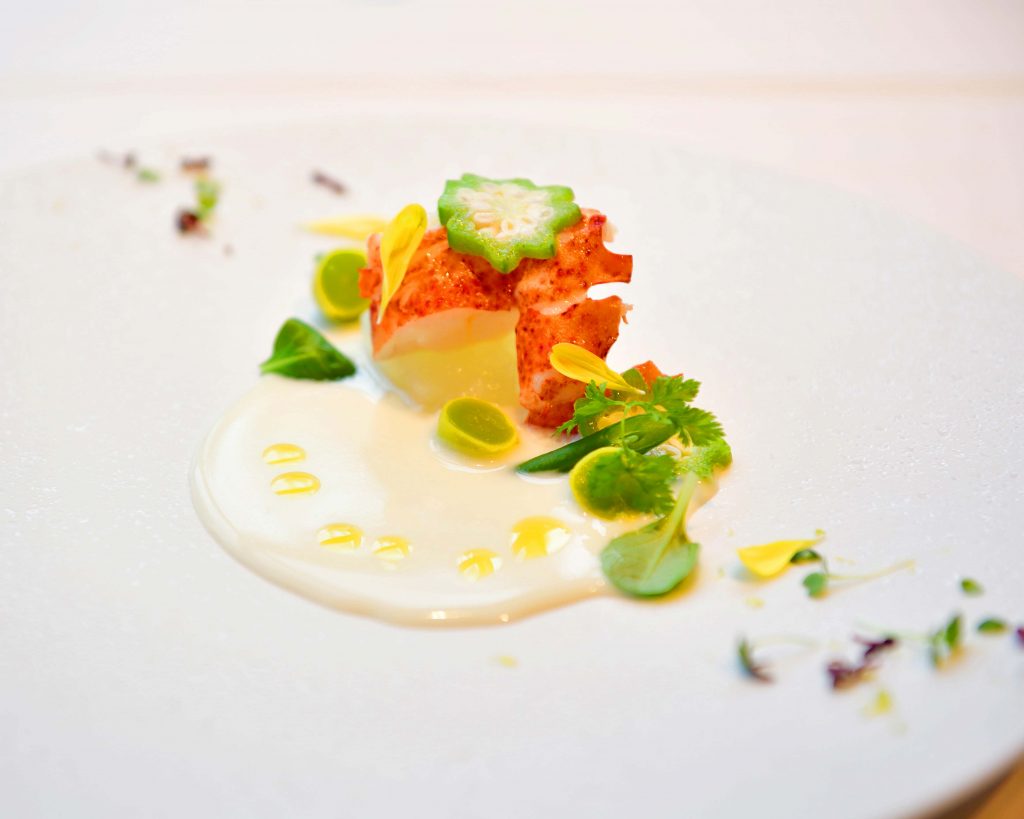 The gorgeous Italian restaurant serving the exclusive dinner with domestic vegetables
The restaurant offers scrumptious cuisines with wonderful taste wine. The chef serves the best tasting dishes using home-growth ingredients. You can enjoy Udo, Aralia cordata, produced in Tachikawa.
Brasserie Amicale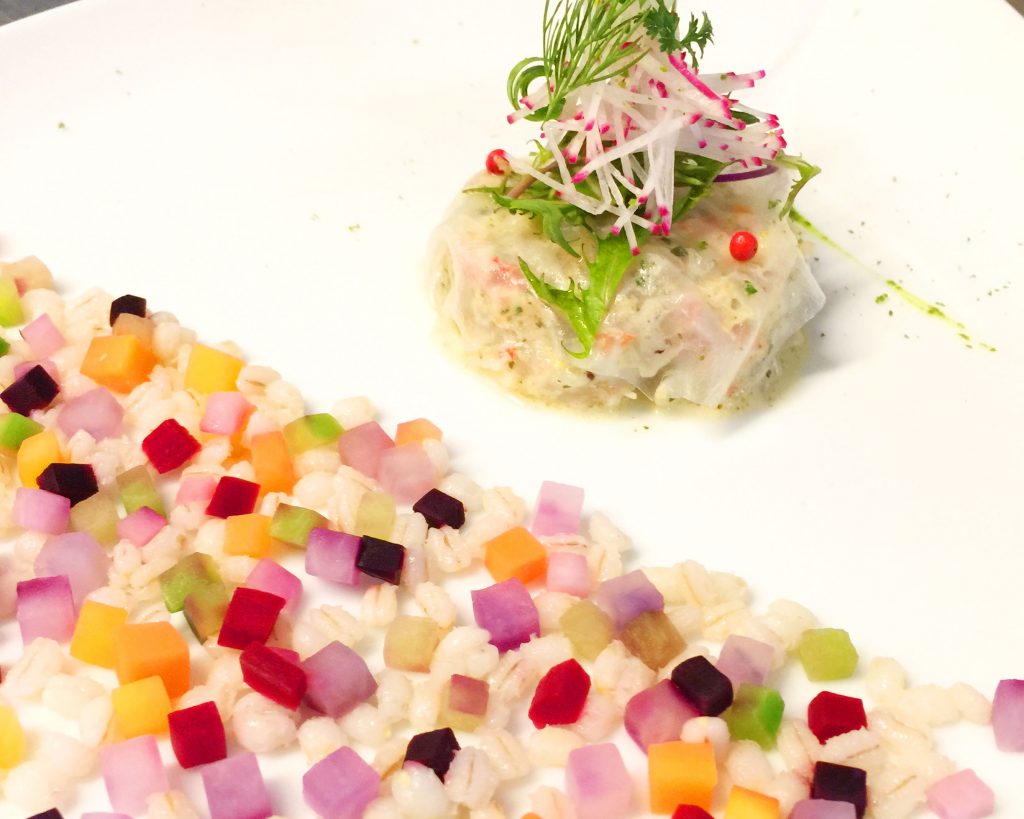 Are you a Parisienne!?
Enjoy French food with delicious vegetables in a relax mood
You might feel like you would slip into one scene of a French movie. Enjoy a variety of a la carte menu such as galette, crepes made with buckwheat, and meat dishes in the French atmosphere. The fresh salad with the original French dressing is one of the popular dishes of the restaurant.
Teppanyaki Senju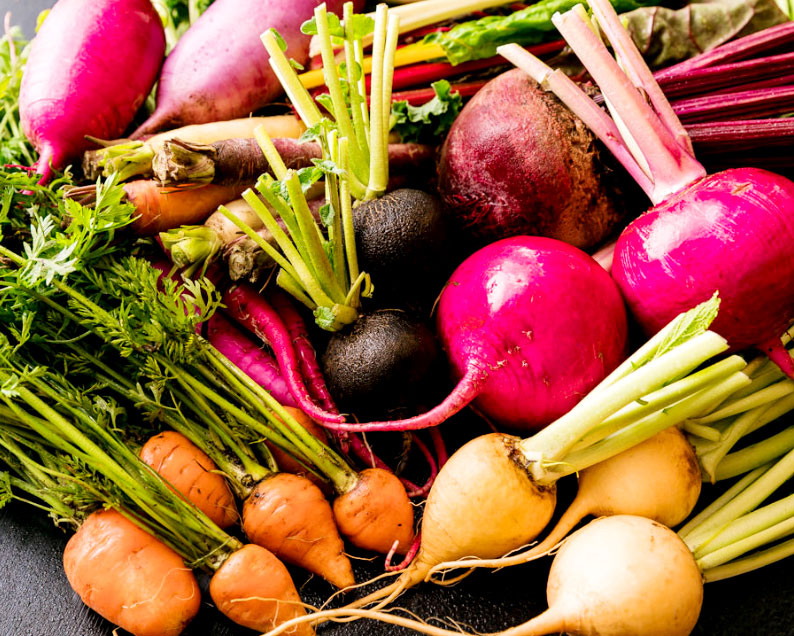 The high-quality Japanese beef and fresh "Tachikawa Vegetables"
The restaurant serves the dishes, which are wonderfully cooked by the skillful chefs. They use all local ingredients from Oyama Farm, Amicyan Farm and other stores in Tachikawa area.
Bistro Saito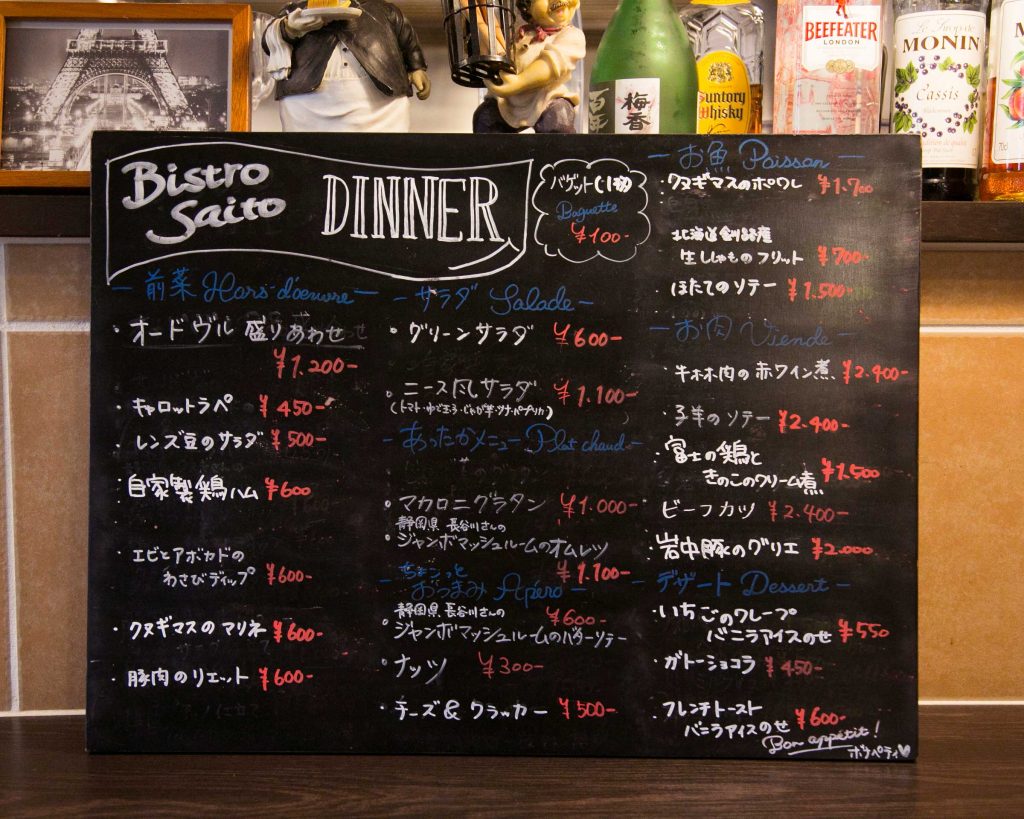 Enjoy casual bistro dinner
The chef of the restaurant cooks French cuisines beautifully and tastefully with the ingredients which are directly delivered from various areas of Japan. Enjoy the bright and colorful salad with lots of fresh green leaves of Oyama Farm.
Café Restaurant
Tekutaku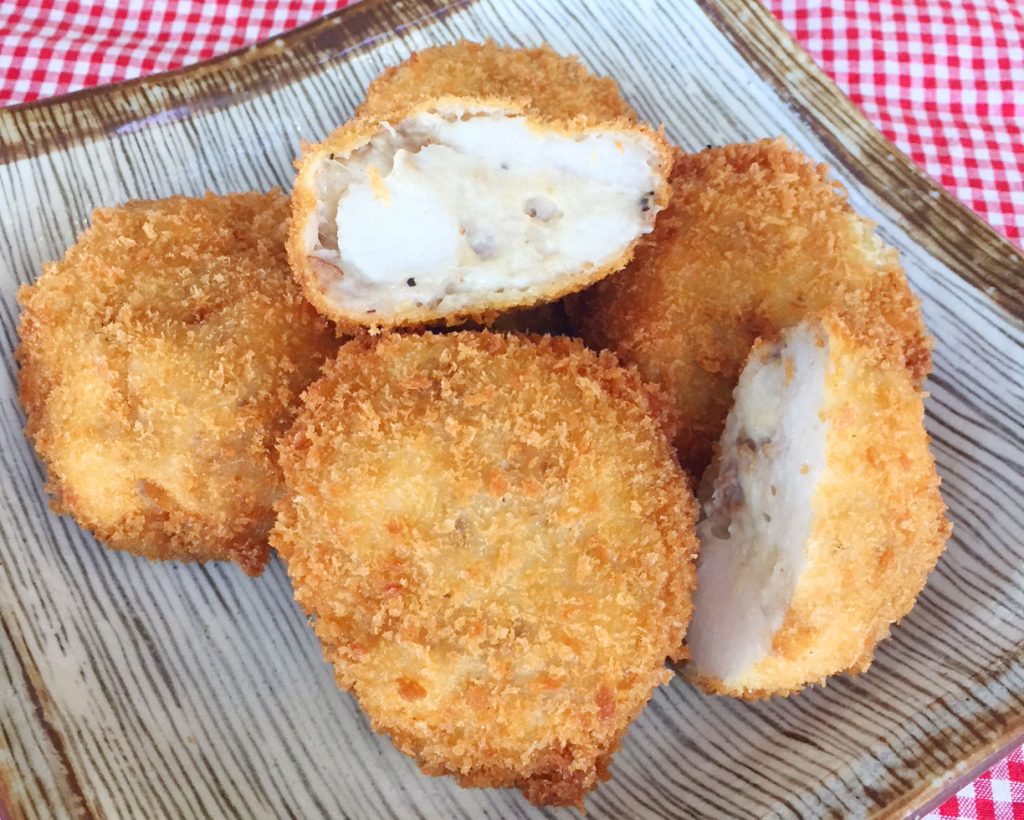 Healthy and delicious Japanese Obanzai dish with seasonal vegetables
Obanzai menu, a set meal of several small dishes, prepared by local vegetables, is healthy and nutritious dish. It reminds you of your mother's tastes. You will be satisfied with the delicious and the heart-warming plate in such cozy atmosphere.
Yakitori Izakaya Goraku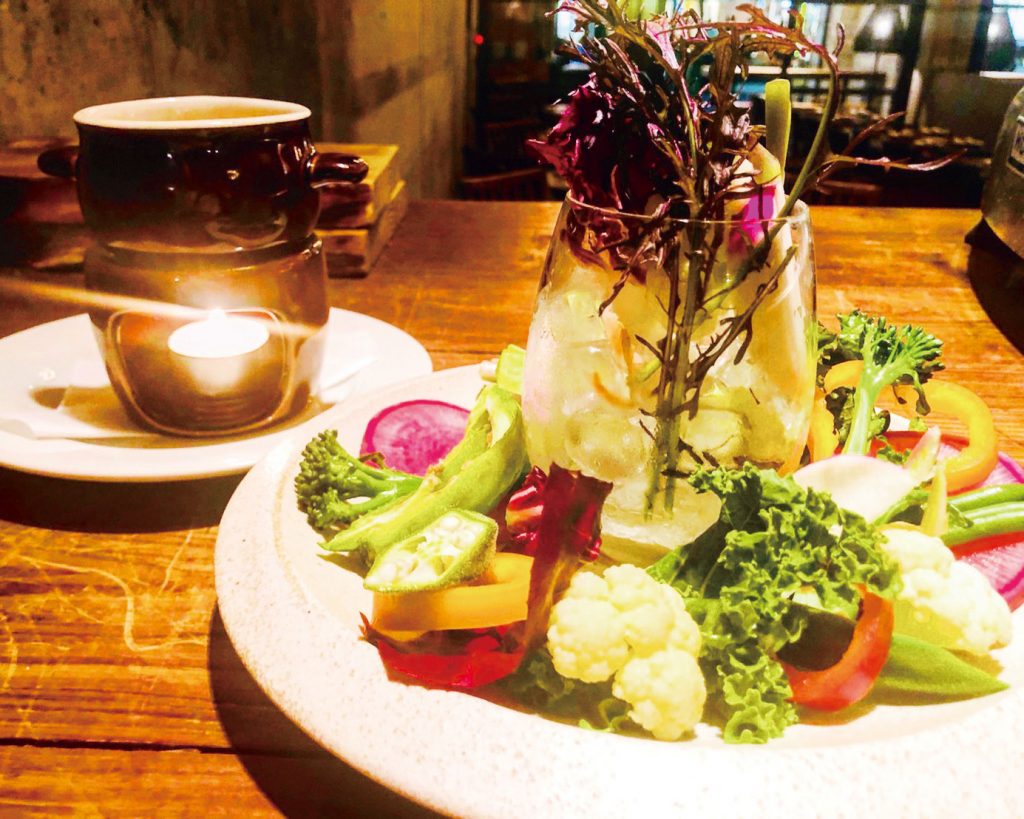 The Edomae-style Yakitori and Bagna cauda of "Tachikawa Vegetables"
Would you like to have Oyama Farm's fresh vegetables with mouth-watering yakitori which was roasted by high-grade charcoal?
Enjoy the Bagna cauda, steamed vegetables with the dip sauce.