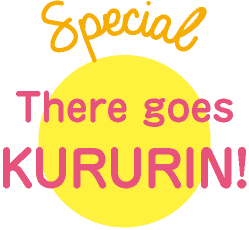 Cooling experience #1 at the facility
To Polar Science Museum of the National Institute of Polar Research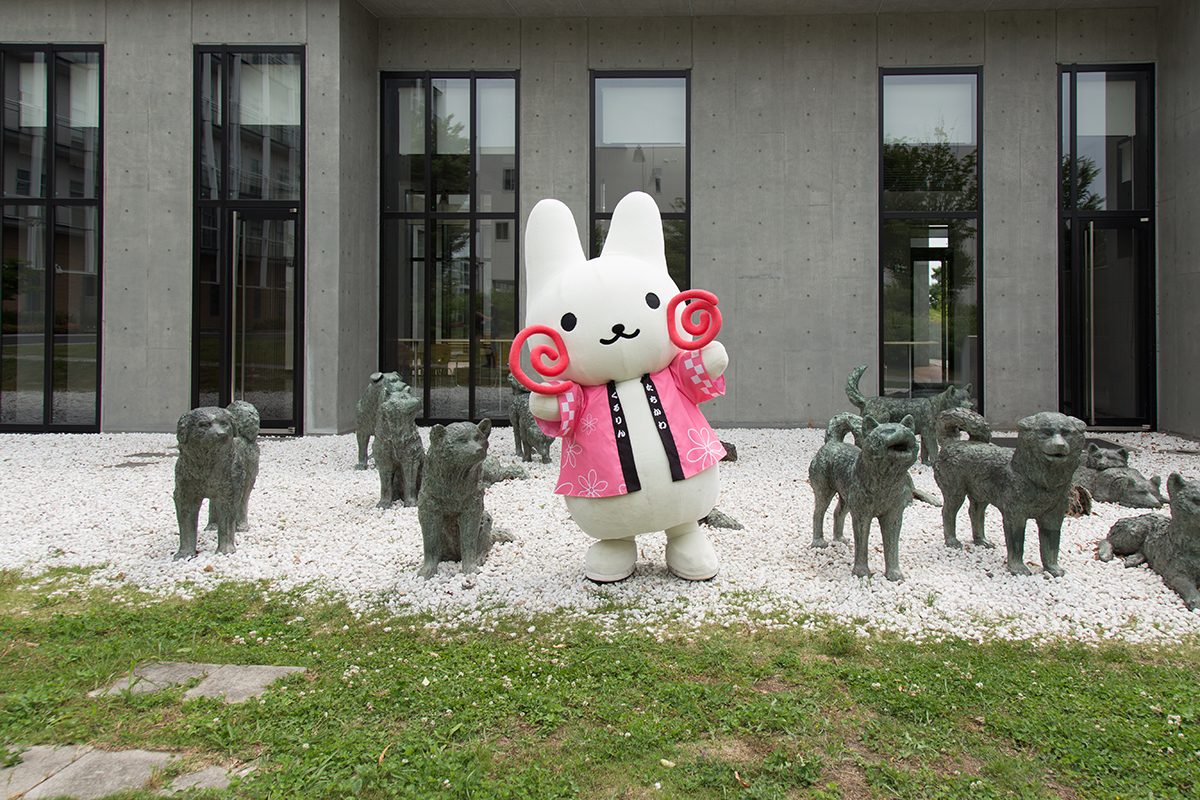 KURURIN learns about the extremely cold South Pole region
KURURIN has arrived the National Institute of Polar Research. I wonder what type of experience he will have! Can't wait! The best part of the place is not only the inside of the building. Okay, KURURIN, strike your best pose beside the Sakhalin dog bronze statue, and say cheese!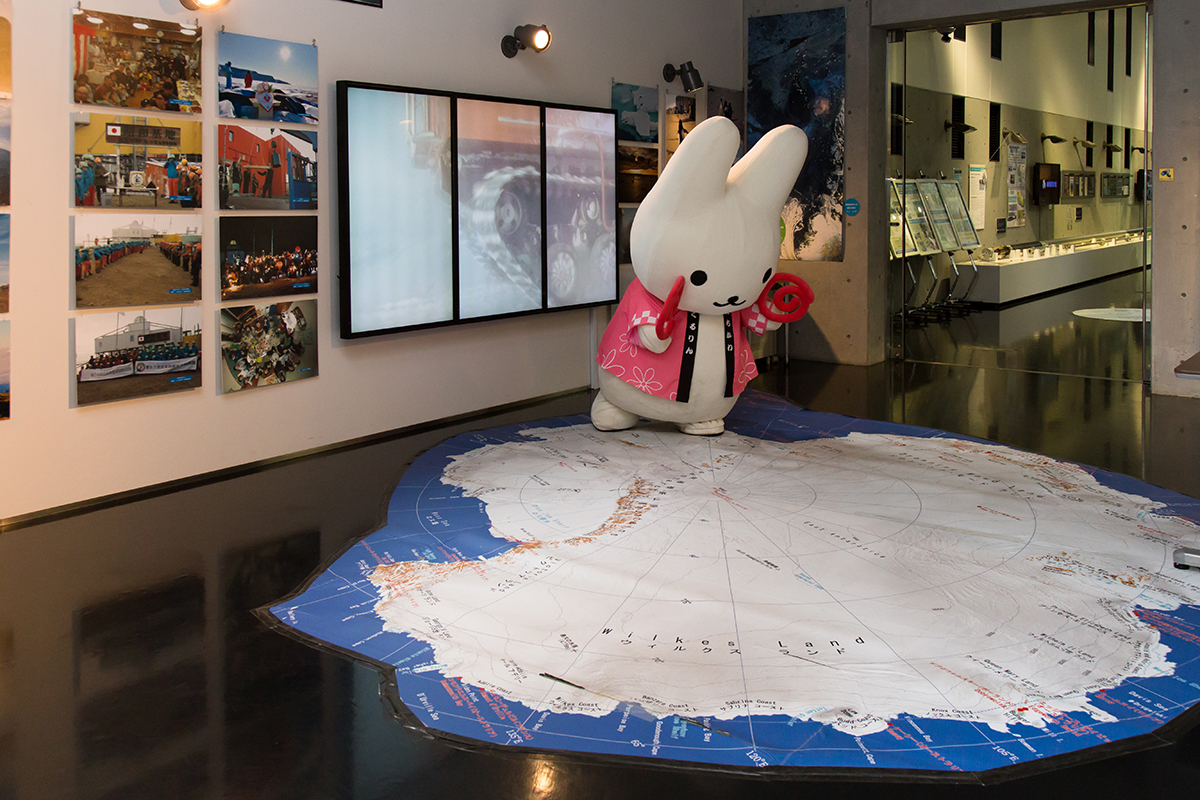 Just after entering the building, you will find a map showing the whole image of the South Pole. Well, what kind of research they are doing in the South Pole? KURURIN is so curious about it!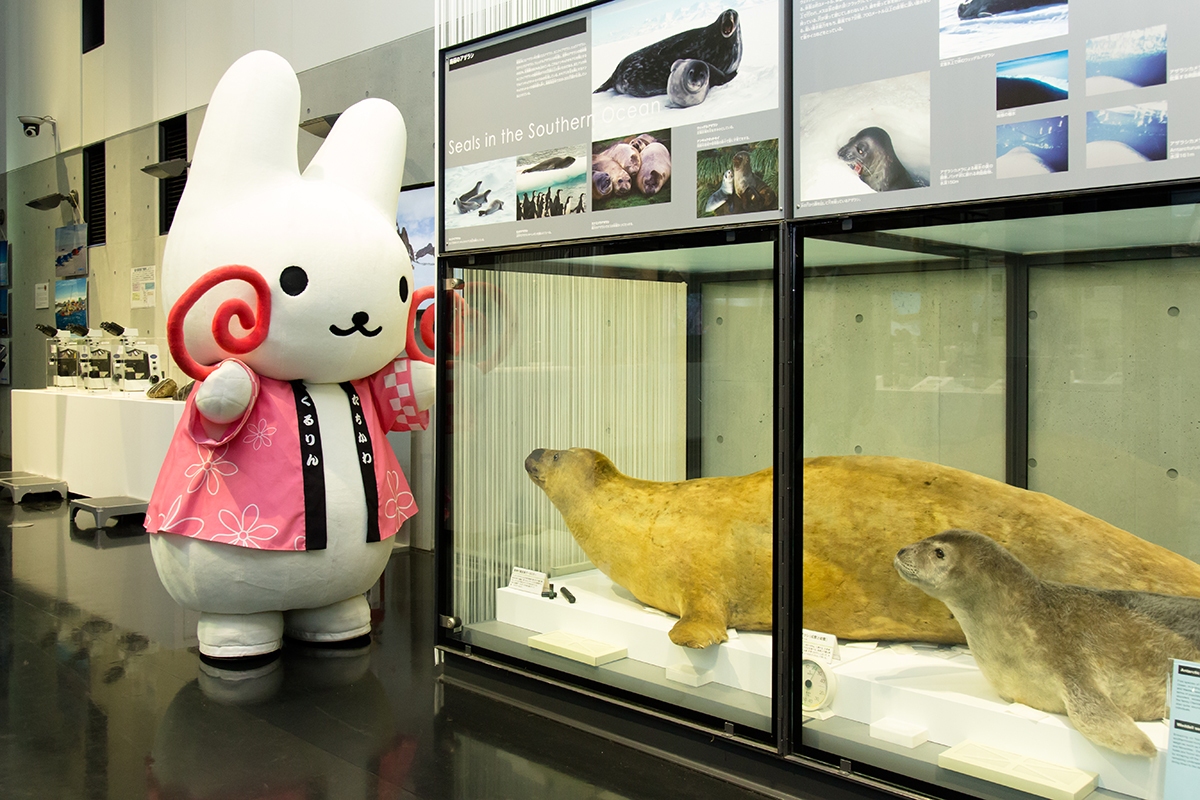 Here, precious stuffed animals that live in the South Pole are also displayed. This is a Weddell seal. When it is fully grown, its body length is about 3 meters and its weight reaches nearly 400 kg. KURURIN is surprised at this powerful impression. Look at the other displayed animals. They are penguins and arctic foxes.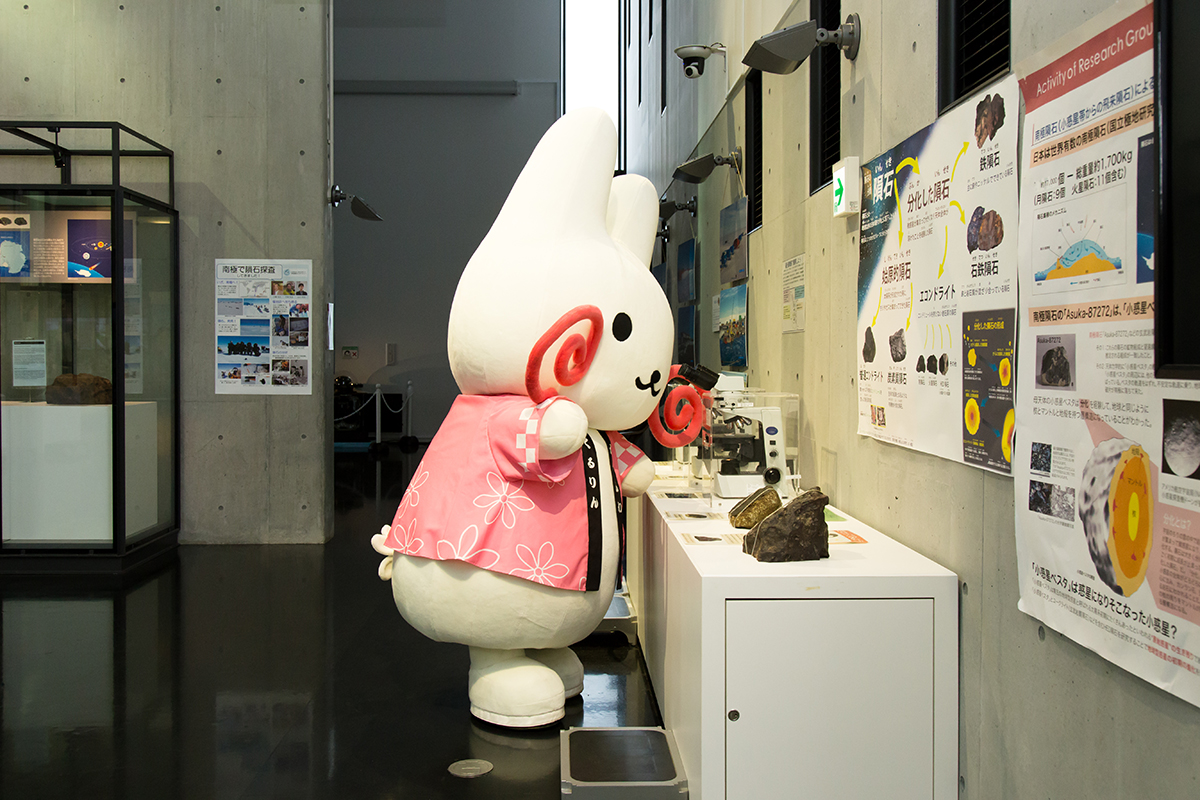 At the meteorite segment, you can touch a real meteorite from the South Pole. I wonder if KURURIN is feeling something from the meteorite that has fallen far from earth. At another segment, you can touch the ice from the South Pole.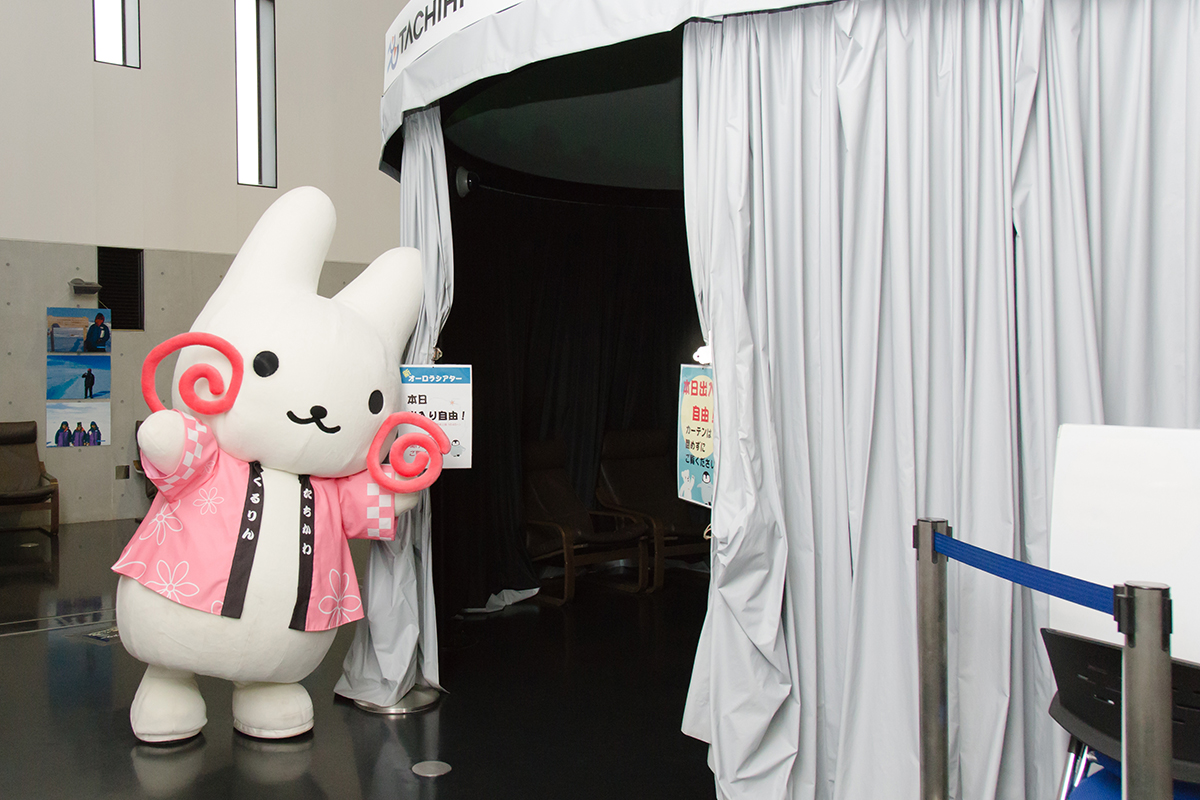 They show aurora images taken from the South or North Pole. You can take your time sitting in the chair and enjoy a lifelike view of auroras. Why don't you try and observe their shape and movement?。
This facility is intended to demonstrate the activities (observation and research) in the South and North Poles through various displays.
The study of earth's history through observation and research at the polar regions will make it possible to forecast our future.
"The polar regions are like a peephole for observing the Earth." While thinking about something far away, you should go through various experiences here!
Polar Science Museum of National Institute of Polar Research
Location: 10-3 Midori-cho, Tachikawa City TEL: 042-512-0910 Opening times: 10:00 to 17:00 (Last admission time: 16:30)
Closed: Sundays, Mondays, national holidays, summer holidays, and new year's holidays Admission: Free
Go to website
Cooling experience #2 at the facility
To Tachikawa Disaster Prevention Museum of Tachikawa Metropolitan Disaster Prevention Education Center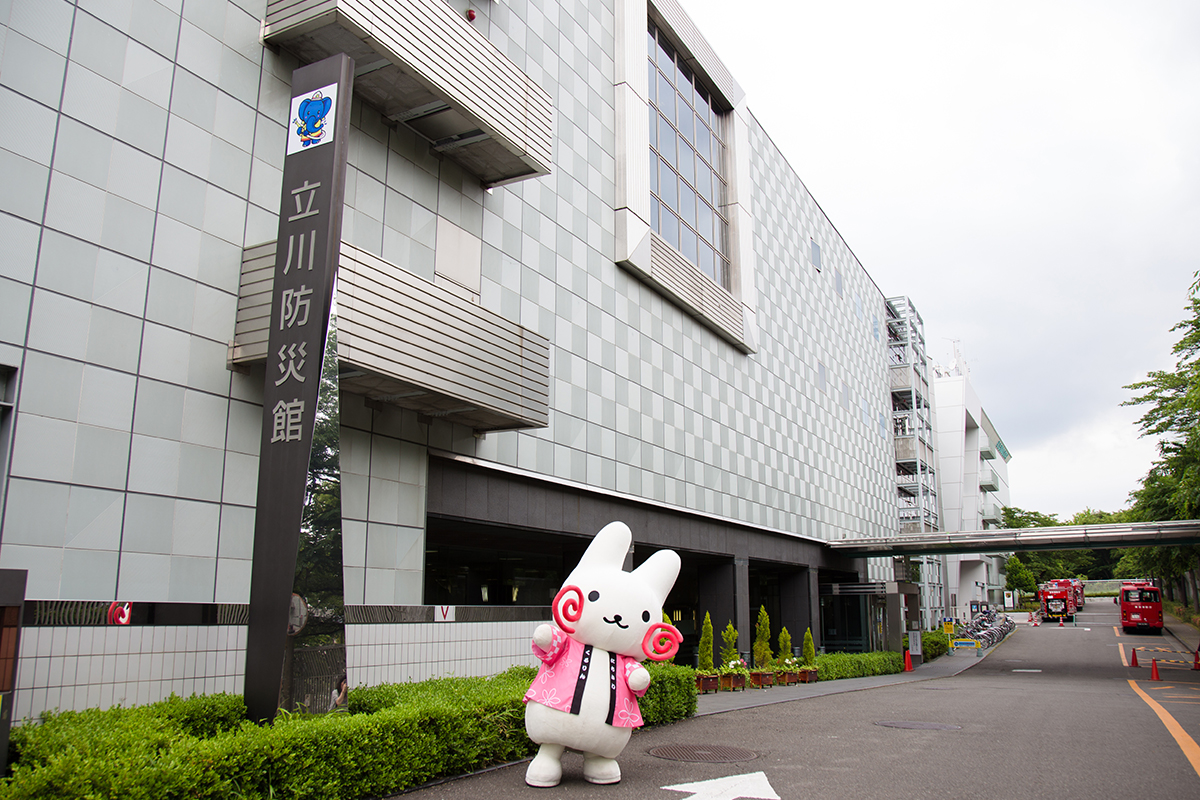 KURURIN is nervous!
This is the place for raising the awareness of disaster prevention!
KURURIN at Tachikawa Disaster Prevention Museum. I wonder what he would be experiencing here…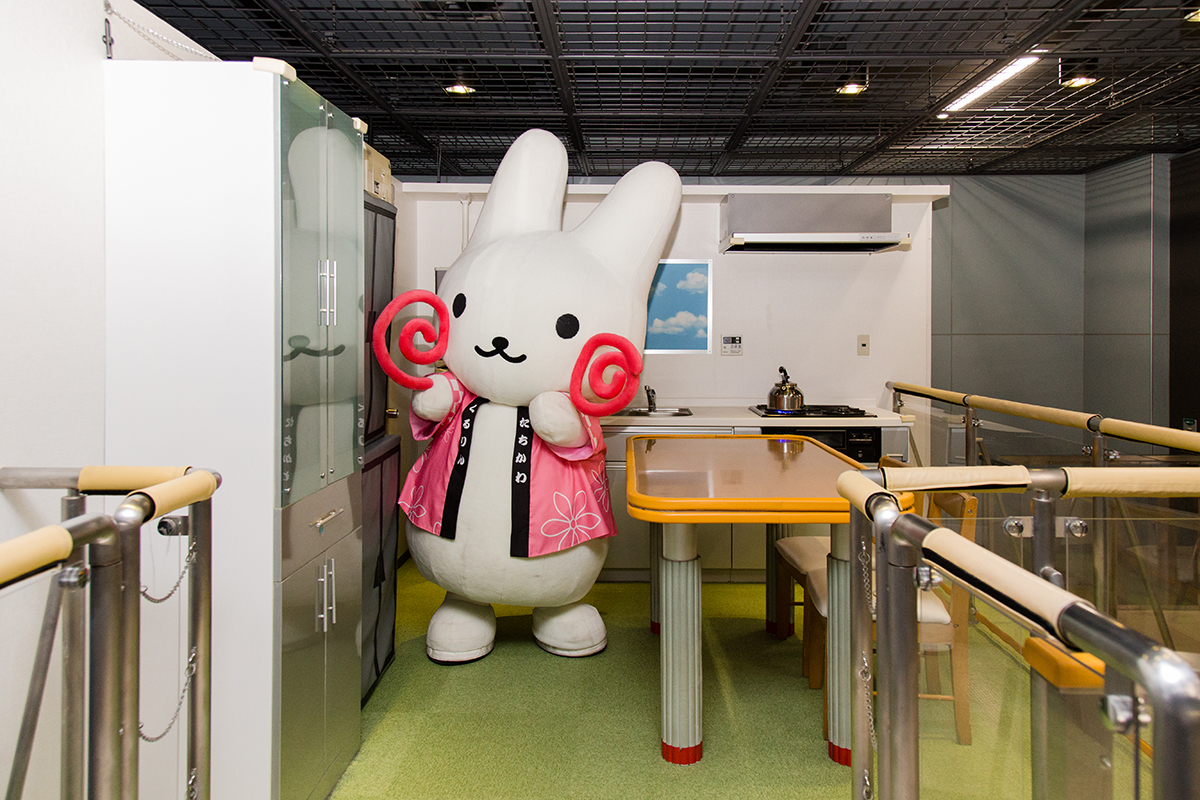 This is the earthquake-experiencing room. A simulated earthquake shake is terrifying KURURIN! He's in danger! Instead of panicking at the sudden quake, let's learn about how we should prepare for and take action in the moment of disaster.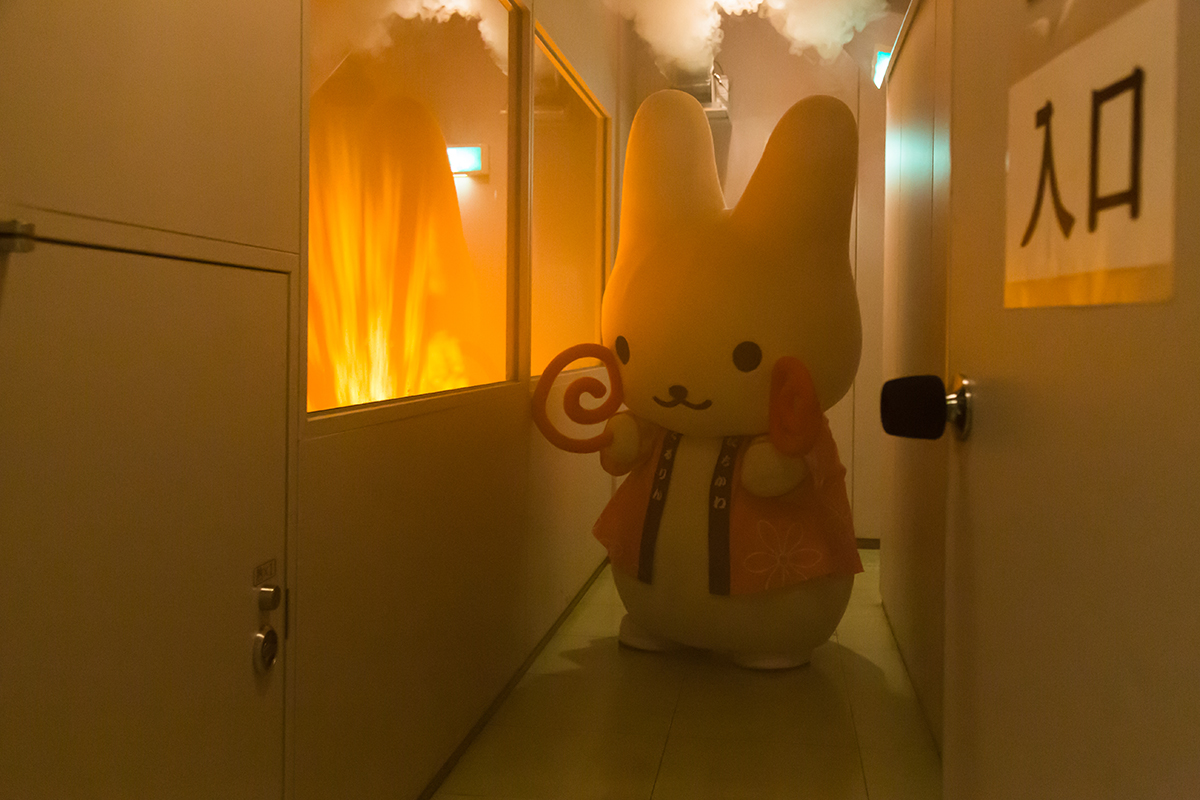 This is the smoke-generating room. Oh my! KURURIN looks a little bit nervous. This room teaches you how to escape from smoke in a building on fire. We should learn about the characteristics and dangers of smoke and learn how to act calmly.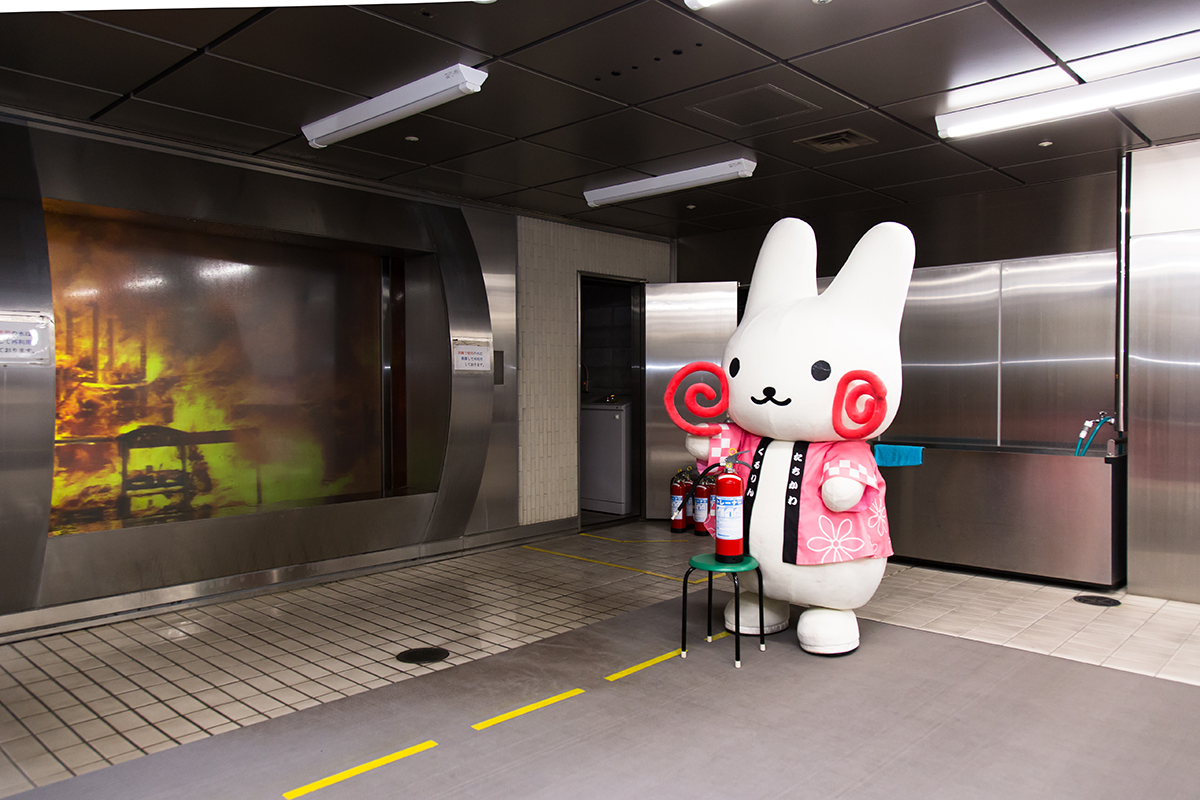 Fire drill room. Here, you can learn how to use a fire extinguisher properly in case of emergency. KURURIN is going to try the drill using fire videos. This is for fourth graders and above.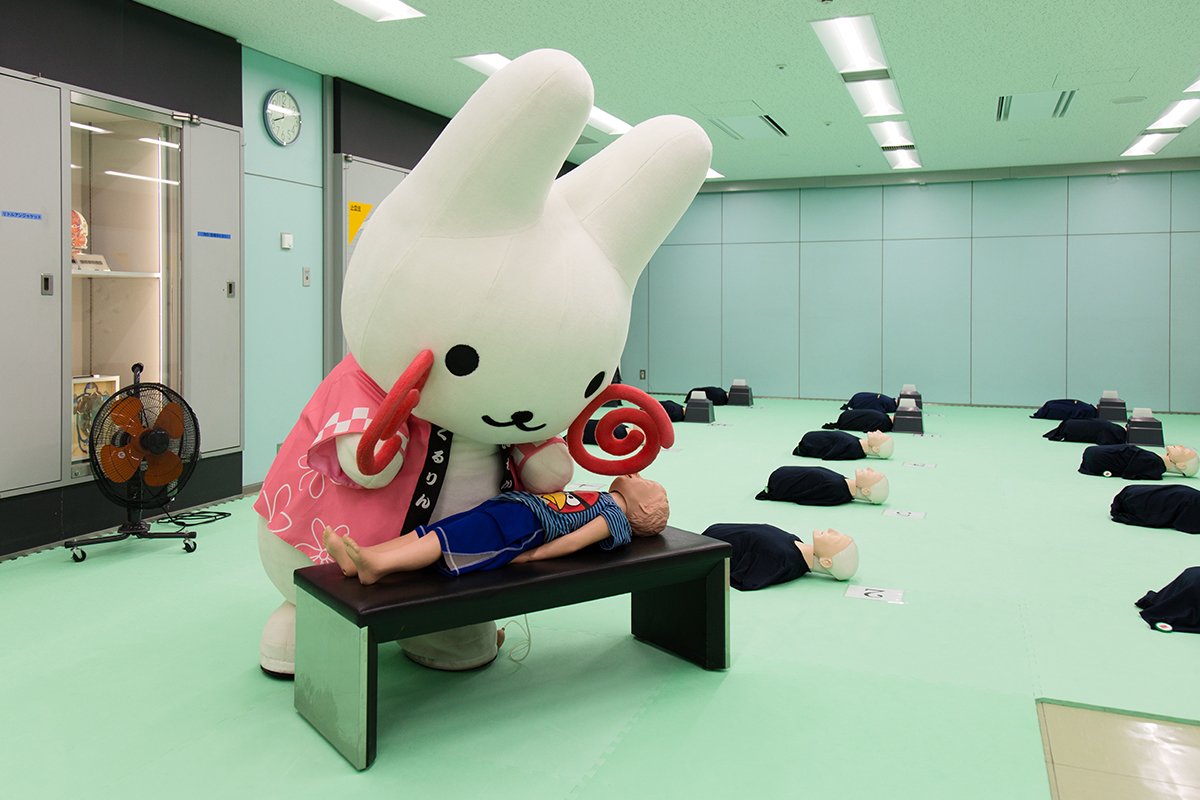 Emergency treatment drill room. This is the place for learning about proper emergency treatment. You can learn how to operate an AED and practise chest compression cardiac massage using a dummy patient.
KURURIN has also tried it. This drill is for fifth graders and above.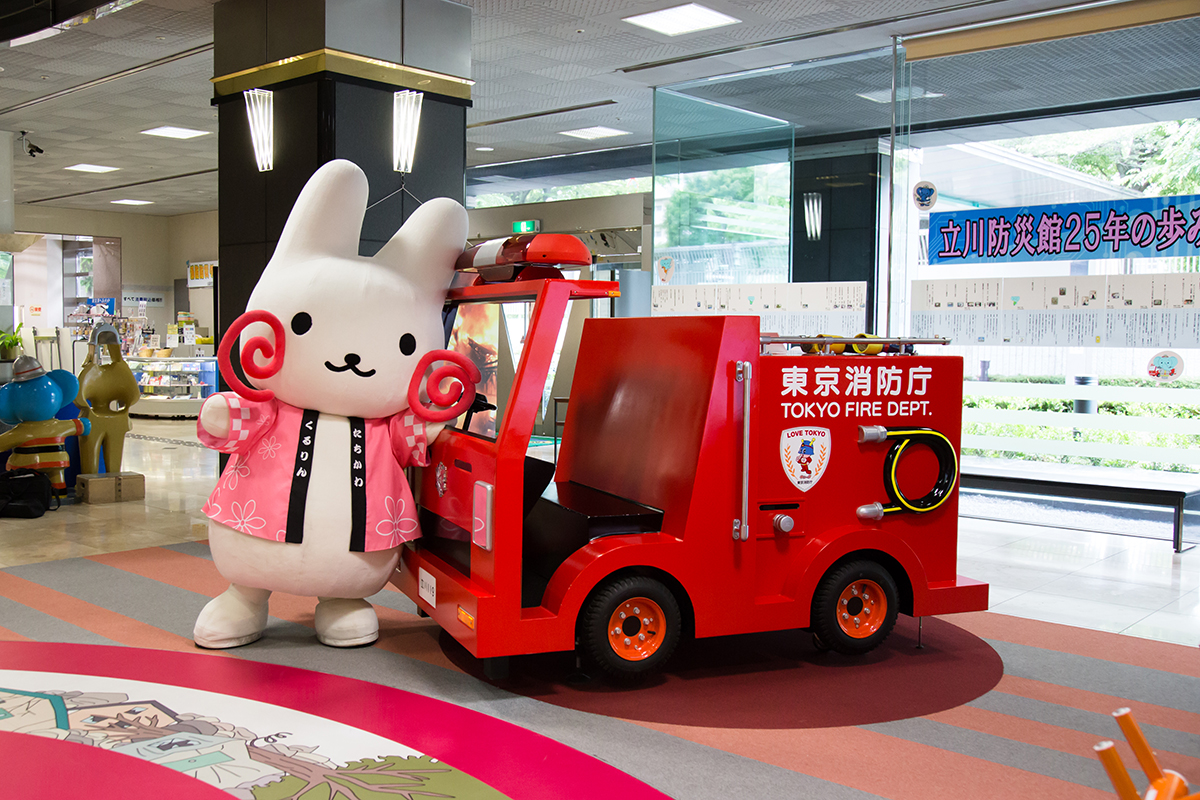 A small fire engine is displayed where you can feel the firefighter mode. KURURIN looks so happy in front of the fire engine.
This facility is good for children and families to experience disaster prevention drills while having fun. It has five segments for experiencing various disaster prevention activities. It takes about 30 minutes to enjoy such experiences for each segment. Group reservation needed. "At the Door" admission is acceptable for family groups. Only three segments are available for lower grades. Self-help and mutual-help type drills are available. Please give it a try!
Tachikawa Disaster Prevention Museum of Tachikawa Metropolitan Disaster Prevention Education Center
Location: 1156-1 Izumi-cho, Tachikawa City TEL: 042-512-1119 Opening times: 9:00 to 17:00
Closed: Thursdays, the 3rd Friday (if a national holiday falls on these days, the following non-holiday will be closed), and new year's holidays December 28 to January 4
※ For details on how to use the experience rooms, click on the link below:
Go to website